How much do you know about LED digital displays? Here's a crash course in the most energy-efficient type of digital signage.
Digital LED signs get your message noticed by as many people as possible. LED signs, which stands for Light Emitting Diode, use tiny light-bulbs that are grouped together to create images and text. These signs are the easiest to recognize from a distance, are energy efficient, and last longer than most other forms of signage.
When Was the First LED Sign Created?
LED technology was invented in the 1960s. At first, it was only offered in red and the light intensity was quite low. At that time, LED lights were typically used for clocks, radios, and televisions. Over the years, LED lights evolved into a wider spectrum of colors with better brightness levels. Once there was an improved variety for LED digital displays, marketers began adopting LED lights on billboards and signs.
Are LED Signs Still Evolving?
Absolutely they are! Just ten years ago, LED signs were much bulkier than they are today. With every new year that passes, LED digital displays become brighter, offer a better variety of colors, improve their digital resolution, and grow sleeker. Plus, new technology has developed to enhance the actual artwork and text an LED sign can display. Originally, LED signs were monochrome and only able to portray scrolling text. Today's LED signs have much more flexibility in what they can do, ranging from intricate text to eye-catching graphic designs.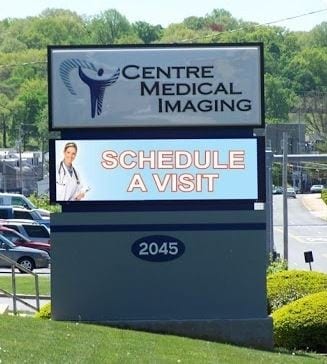 Do you know what the most common use for LED lights is?
Traffic lights!
LED lights are used in most traffic lights across America.
What Are the Benefits of Using an LED Digital Display?
LED lights are one of the most efficient forms of signage. New LED signs use less energy to create their bright images and do not contain mercury, which is harmful to the environment. They do not generate a lot of heat and use about 75% less energy compared to neon and fluorescent lighting. LED lights are a great option for your wallet and the environment.
An LED display has a long lifespan. LEDs cannot have gas leaks, so the lights are less likely to dim and burn out. In fact, a high-quality LED bulb gets about 25,000 hours of life. So if you're looking for a long-term display, LED is your best option.
LED lights are brighter and more vivid than any other light. They can be seen in all types of weather, whereas neon light tends to get hard to read on bright and sunny days. Plus, its bright colors effectively attract attention from those who pass by.
An LED sign can be placed almost anywhere your heart desires. Inside or outside, LED is a safe option for digital signage.
According to the Small Business Administration, LED advertising is the most effective and least expensive form of advertising for small businesses.
How Can an LED Sign Help Me?
A carefully created and well-placed LED display can help you: