'Tis the season for holiday travel!  When an airport is clearly labeled, you allow for improved passenger satisfaction and much less chaos. No matter how advanced phones become, they cannot navigate people internally through an airport. Which is why clear signage is and always will be a top priority for any airport.
Are My Airport Signs Efficient?
Are Your Signs Clearly Labeled?
Throughout your airport, you need to have signs that direct passengers to exactly where they need to go. Airports are full of people rushing around, so your signs need to be big, clearly labeled, and of course, accurate.
You may know your airport like the back of your hand, but your customers will not. People from all over the country (and possibly the world!) will be stopping through, so make sure you have signs that clearly show which path to take. Don't forget that with all of the chaos, it's easy for a customer to miss a sign or get confused about their location in an unfamiliar airport. That being said, the more signs, the better! Passengers will never complain about too much signage.
Are Your Signs in Different Languages?
When equipping your airport with proper signage, be sure to consider your audience. Are your travelers going to be fairly local, or will they be coming from across the globe? If they're international or you are located in an area with a couple popular dialects, it helps to incorporate multiple languages into your signs. English is always a top priority in America, but consider other languages (like Spanish) to improve the efficiency of your airport and help your passengers get to where they need to go.
Do You Have Safety Signs in Place?
Airports should be a safe place, but things can go wrong very quickly. Make sure you have all of the necessary safety signs in place so your passengers know where they can and cannot go.
Do You Have Informational Signs?
Going through airport checkpoints, such as finding where to check in for your flight and preparing for TSA, shouldn't be a hassle for your passengers. Keep clear directional signs that help navigate people to where they need to go.
Don't forget to have plenty of informational signs around your airport to help people prepare for security checks. Your signs should list out what can and cannot be brought onto an airplane, what to place in your checked luggage, technology rules for carry-ons, and what to do if you suspect a security threat. Placing these informative signs in the right spots will help your passengers better prepare for their flight and keep security checkpoints running smoothly.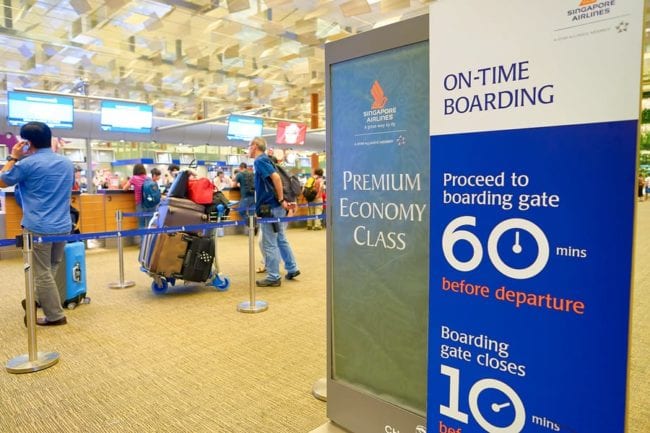 What About Those Parking Signs?
Don't forget about the outside of your airport! Incorporating large and clearly labeled parking signs is just as important as directing indoor traffic. The last thing you want is jammed up traffic outside of your airport, so make sure you have clearly labeled arrival, departure, and pick up lanes.