Buying a car is a big decision, and consumers want a dealership they can trust. A polished, professional sign can go a long way to inspire confidence. And, if you offer repair, maintenance, parts or other services, you need to communicate those capabilities as well.
We understand the needs of our automotive customers, who operate in a fiercely competitive environment where advertising is key. Our years of experience in creating custom signage will give you the edge you need to stand out from the crowd.
We love building automotive signs and helping you DRIVE sales!
Need a new sign for your dealership? Contact Bartush to get started!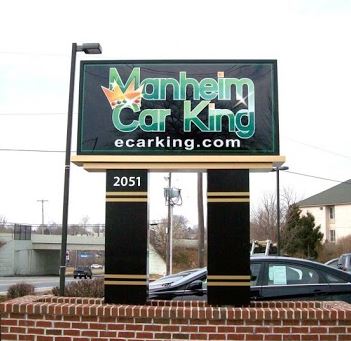 Need a Dealership Sign?
Dealerships, body shops, repair centers, parts stores and other automotive businesses can rely on our years of expertise to deliver a product that draws in customers and clearly calls to mind your brand and values.
Bartush Signs also does the leg work when it comes to specs and permits, leaving you one less thing to worry about. Contact us today to find out how your automotive business can reap the benefits of beautifully made custom signage.
Make sure your dealership's sign looks a good as your cars!
Get a Better Dealership Sign Today!
Bartush can design and build your dealership sign from the ground up or bring your ideas to life! Simply fill out the form below or give us a call for your consultation.