Signs for Shopping and Retail Centers
Whether you're a mega shopping center or an individual store looking to create your brand identity, your retail center needs signage that is going to catch the eye of customers. A great design on or in front of your business is the ultimate advertisement. It can bring in new customers and stick in the minds of those who have already stopped in, prompting repeat business.
Bartush will work with you to create signage that is true to your brand identity. Our skilled craftsman can work with any existing logo and determine the best approach to drive the results you want to achieve. Bartush has been in the sign business for over 75 years. We're the shopping signage experts, offering full-service solutions for all of your communication needs. Whether it's inside or outdoor signage that you need, come discuss a plan with us and let us take your retail signage to the next level.
Need a new sign? Contact Bartush to get started!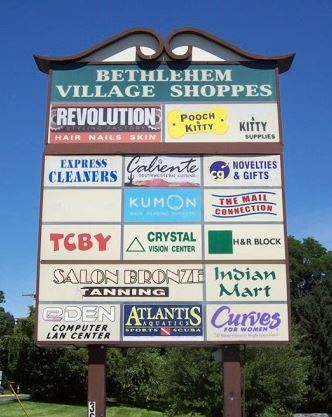 Shopping for a Sign?
We here at Bartush offer a variety of sign types and services. We know just how important quality signage is to your brand. Malls and shopping centers are filled to the brim with different messages that your customers need to decode. Why fit in with the rest when you can stand out. Let us work with you to create something that is truly going to make your signage stand above the rest!
If you're interested in creating or updating your shopping center signage, contact us today! Feel free to browse the gallery below for a preview of our shopping center portfolio, and start thinking about how you can benefit from our wide variety of other sign options too!
Make sure your sign looks as good as your shopping center!
Learn How Bartush Can Help You With a Sign Solution Today!
You need something that is going to catch the customer's eye! Make your brand standout and fill out the form below and a member of our team will reach out as soon as possible. For a more detailed form, please contact us here.