No matter the size of your school, you know it is important to effectively engage with students and faculty on a daily basis. Well designed signage for colleges and universities vastly improves the student experience, enables easier campus navigation and strengthens branding and informational efforts.
Below, take  a look at the four types of signs every college or university needs to consider.
Directions
For incoming freshmen and visitors unfamiliar with the campus, digital signage can be an efficient way for pointing them in the right direction. Depending on the institution, a larger campus can be extremely difficult to maneuver around. To help with guiding  unaccustomed individuals around campus, colleges and universities can place directional signs and maps throughout campus. Whether it's a more traditional map or a more advanced 3-D wayfinder, clear, noticeable signage can provide the necessary information non-verbally, making for a better experience overall.
Informational Signs
Getting out on-topic messaging is a key factor for promoting student engagement and a safe campus environment. On-campus digital signage can easily ensure the safety of your students and faculty through quickly posted emergency updates. The signage can also be used for more positive updates, as well, including the promotion of campus activities and athletics. Strengthen your branding efforts by engaging students with school specific messages promoting school spirit.
Menus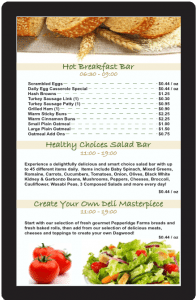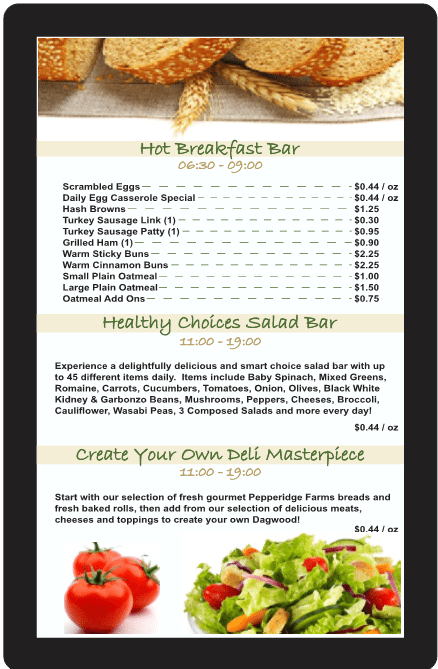 Students are always on the move in between classes and activities, so their time spent in the dining hall is usually on a time limit. Changing menus from breakfast to lunch and to dinner can take a lot of effort. Offering a digital menu can cut down on time, as well as ensuring students know what they want they want when it's time to order. Getting students in and out will produce a more effective flow within your on-campus eateries.
School Branding
Branding can be very important for colleges and universities. Promoting your brand can be an influential factor in recruiting students to your school. Create a sign that is welcoming. Use your colors. Make these potential students feel proud about coming to your institution, and keep school spirit alive within current students, faculty and alumni. Our expert technicians work with a variety of tools and materials to correctly recreate your colors, logos and graphics.
Why Bartush?
Bartush has been in the sign business for over 75 years. We're the educational signage experts, offering complete solutions for all of your communication needs. From campus maps to building signs to dining hall menu boards we do it all, handling design, manufacturing, installation and repair. Our signs present information in a way that's eye catching and easy to understand, making them incredibly effective.