Having high quality, well placed signage is key for any business owner, but for property owners like landlords high quality signage isn't just a good business strategy, it's an absolute necessity. Your property has to have things clearly marked like parking, signs for the leasing office, off limit zones, and everything in between. Proper signage in your complex or community makes things easier for you, your tenants, and your employees. Not only do signs improve the community, they will protect you from any landlord's worst nightmare — aside from terrible tenants — potential lawsuits.
For other businesses, signs act as a great way to advertise a particular product or service, but in the housing world, signs need to convey an inviting message. Your signage needs to say, "Hey, here's a great home. It's friendly, warm, inviting, and clean." It's difficult to get that message across and the wrong sign can take you from "dream apartment" to "dreary apartment" faster than you can sign a lease.
You need to convince people that your property is the best possible place to live, and with so much competition it's going to take more than low rent, beautiful landscaping, and amenities: it's going to take a great sign.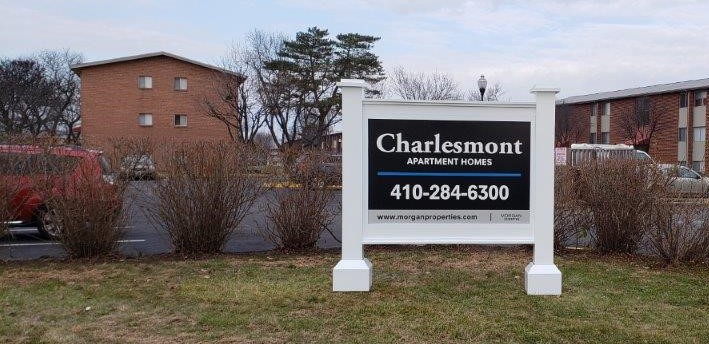 Here's a great sign we worked on for Charlesmont apartment homes. This is perfect because it's clean, simple, and professional. It delivers the right information and the right message in a package that attracts potential tenants and current residents.
A unique sign will make prospective renters feel like they're a part of the community even before they decide to move in. It's welcoming, quaint, and friendly. A sign should target a particular demographic, and the only way to do that is with a team that's been making signs for more years than we could fit on one of our largest billboards.
The distinction between house communities and apartment communities is your target audience, and you need a sign that's tailored for the perfect audience.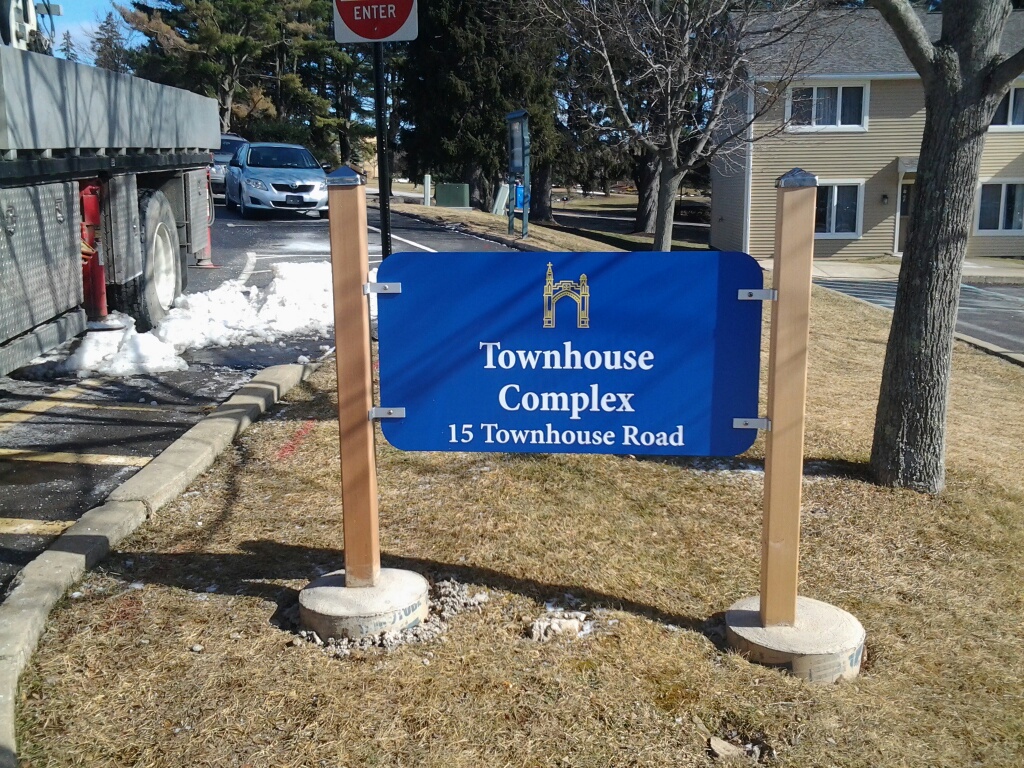 Your community needs signs that help the flow of traffic and the flow of tenants. You want to make sure it's clear where to go for parking, laundry, club house, etc. This can be solved with makeshift poster boards, but is that really the look you want for everyone who lives in your community? You need professional signs that are as beautiful as the scenery of your property. Don't settle for anything that looks less than up to snuff.
This direction signage is important for signs on particular buildings, designation signs. When you have an attractive sign it makes it easier for residents to identify what building is what. You don't want to waste tenants time by having them walk into the laundry building when they meant to go to the leasing office. You'd be surprised, it happens.
You all know the importance of making things right. That doesn't just mean cutting the lawn, fixing some leaks, and shoveling the snow. You need to ensure that the signage on your property is communicating an effective message to your tenants. Get signs that make people want to come, make people want to stay, and keep everyone who visits your property happy.
Get in touch with Bartush Signs. We are the absolute best in the business, and we have the experience needed to make your signs standout!