Hotels provide a "home away from home" for many individuals and families traveling — whether it's for a vacation, a business trip, or an event in a city far from home. There are many different reasons for why people may book a stay at a hotel, but many share the same expectations they have once they arrive at the property.
Hotel guests want to feel comfortable, safe, and welcomed at the hotel of their choosing and hotel signage can play a large role in how likely they are to book a second stay. When choosing signage for your hotel, all of the options can feel overwhelming, but at Bartush Signs, we will walk you through the process and create high quality resort signage and hotel signs to help you provide the best hospitality experience possible.
Exterior Hotel Signage
Hotel Branding
One of the most important signs your hotel or resort will have is the one that guests will see before even stepping foot inside the lobby – the hotel name. The free-standing signs around the parking lot and channel letter signs on the exterior building walls that guests will see when they first arrive at the hotel will set the tone for the rest of their stay.
The signage should be easy to read and seen from a distance, especially for travellers arriving late at night and hotels visible from major highways. Not only is a large, lit-up sign on the front of your building important for guests to be able to find the correct building, but it is also a useful advertising technique.
The signage should be consistent with the hotel brand and not too busy with text or information that it overwhelms travelers. Despite being told not to, many people will still judge a hotel "by the cover." An unwelcoming appeal could have guests making other arrangements and booking a different hotel in the area before even checking in. Guests should feel a warm and welcoming vibe upon arrival and quality signage can help with that.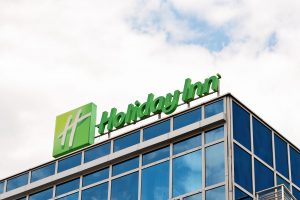 Parking Signage
Owning a busy hotel with an unmarked parking lot can be a headache to both hotel management and guests. Parking signage is essential for maintaining order and ensuring guests park in the appropriate spots.
Exterior signage will be needed to label handicap parking spaces in the lot, as well as spaces that may be reserved for staff. If your hotel offers valet parking services, separate free standing signs should be used to direct guests to the correct drop-off zone off.
When you create custom branded parking signs, you are alleviating guest confusion and ensuring that the process runs smoothly for them from the time they drop off their vehicle at valet to the time they check out of the hotel at the end of the stay.

Interior Hotel Signage
Directional and Wayfinding Signage
Every hotel layout is different and some may be confusing to navigate without proper directory signs labeled throughout the property. When looking for the lobby, hotel room, pool, elevators, restrooms, or vending machines, easy wayfinding signs strategically placed to optimize convenience can help a guest feel at ease and lessen the amount of questions the front desk will receive.
Getting lost in a hotel can leave a guest frustrated and more likely to book a stay at a different hotel for their next trip. For hotels with revenue-generating amenities such as a bar, restaurant, or casino, profit can be negatively affected if guests can not find the services easily. A solution for both the guests and the hotel owners would be to install digital signage with a hotel map, as well as arrows and labels throughout the property.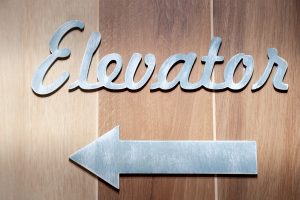 Exit & Emergency Signage
As a hotel owner, you never want to anticipate an emergency, such as a fire, occurring but it's important to prepare for one. It's your responsibility to make sure that the fire exits are clearly marked and the signs are visible from a distance.
There should be wayfinding signs, showing the pathways to stairs and signs informing guests to not use elevators in the case of a fire or evacuation. It's never too early to plan for an emergency. Call Bartush Signs today and let us help you create custom and instructional signage that will relay important evacuation information to hotel guests.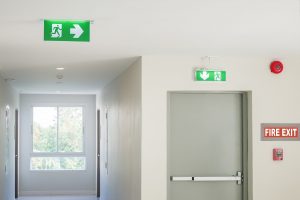 5-Star Experience
Just as your goal as a hotel owner is to provide each guest with exceptional customer service and satisfaction, at Bartush Signs we strive to make each interaction with our customers stress-free and enjoyable for them. We produce quality signs that not only meet the needs and standards of hotel owners, but exceeds them.
With 75 years of experience producing signs for the hospitality industry, our expert craftsmen are ready to help you understand what signage you need for your hotel, discuss the custom design, and deliver the perfect long-lasting sign solution for any space. Contact us to begin designing a custom sign for your location today!