Education is important — no doubt. The curriculum that is taught to high school students is essential in helping them prepare to one day enter the workforce and bring about positive change to their communities. While many are aware of the importance of high school curriculum, the importance of the educational signage that is used throughout high schools can not be overlooked.
Clear and consistent signage is necessary in providing directions, igniting school spirit, labeling safety instructions, and relaying important information to the student body. Below, we discuss four important types of signage that every high school should consider.
Show Us the Way
High schools can be very large, with many areas for students to navigate to throughout the day and only a short period of time to get there between classes before the late bell rings. A student may have 8 different periods throughout the day, where they have to find their homeroom, classes, library, restroom, gymnasium, art room, theatre, cafeteria, or office. As soon as the student learns their daily schedule, it changes again for the second half of the school year and they have to learn to renavigate their day.
Directional and wayfinding signage is crucial in helping students, and faculty, find where they need to go. This can include room labels and arrows pointing in the right direction strategically placed throughout the school for the convenience of the students and staff. Students will be able to find their classes on time and without getting lost and teachers won't have to listen to excuses on why their students were late.
Step Up Your School Spirit
Installing custom signage and vinyl wall decals throughout high schools is a great step in igniting school spirit and making the interior atmosphere of the building more visually appealing.
A warm and welcoming aesthetic to greet students and faculty first thing in the morning can set the whole tone for the rest of the day. It can make arriving at school more enjoyable and promote a more productive learning atmosphere. Show off your school's pride to visitors with vinyls of your school's mascot, colors, and messaging. Not only will you be proud of the school you're a part of, but you'll be proud of the high quality, attractive signage that adorns the hallways and rooms of the school.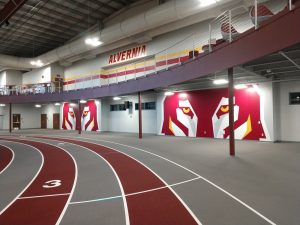 Safety Matters
Every school holds occasional emergency drills to prepare for a potential crisis — including a building fire, intruder threat, and natural disasters — but without clear safety signage, the drills may not be as effective in helping the school's occupants know what to do during the emergency.
Fire exits should be clearly marked and visible from a distance and evacuation plans should be posted throughout the building. All first aid stations and hand/eyewash stations should also be visibly marked. A sudden and unexpected emergency can mean chaos and confusion, unless there is an adequate number of clear and informational safety signs located in the building. Appropriate signage can help occupants know what to do and quickly and orderly exit the building to safety.
Score Quality Sport Signage
Not only are quality and informational signs important to install in high school buildings, but they should also be placed at school activities that occur outside of school hours, such as sporting events. Whether you choose analog or digital, we have the expertise and experience to tackle any scoreboard with style while working around your school's guidelines. When you work with Bartush Signs for your educational needs, your school's signage will be a slam dunk… or touchdown… or home run! You get the idea!
Schedule a Consultation
At Bartush Signs, we make it as easy as ABC and 123. As a member of COSTARS, Bartush Signs is proud to be a trusted vendor for state affiliated entities. Through our participation in the program, we can provide high quality, long lasting, and durable custom signage for a great price to state funded organizations. Plus we make the process easy and stress-free.
Bartush Signs handles everything from design through installation and with custom sign packages for schools and athletic programs, you can get the look and feel that's right for your school and for your unique student body.