As the current pandemic continues to be a concern for many in Schuylkill County it's no wonder people are turning to drive-thru services to pick up their food, rather than dining in. From designating an area to pick up curbside to-go orders, to making your restaurant's drive-thru a convenient and positive experience, there are a lot more signage needs than you may realize.
Need for Directional Signage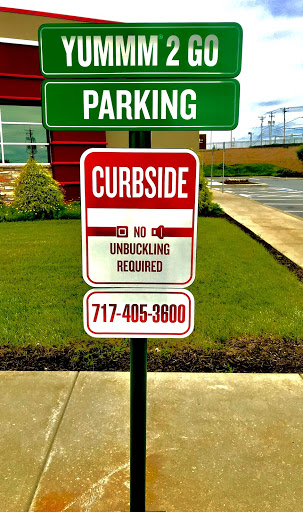 Whether you're typically a dine-in and carry-out restaurant making adjustments with curb-side availability or your establishment provides a drive-thru that needs to be updated, providing directional signage is vital. Directional signage indicates where customers should enter the line for ordering or where the designated parking area is for curbside pick-up.
Providing clear directional signage for your Lehigh Valley restaurant creates a simple and easy experience for customers that encourages them to return. If a customer struggles to figure out where to enter the drive-thru or understand where they are supposed to pick up their curb-side order, they will be less inclined to return. Likewise, clear directional signage also creates less traffic and congestion for both, dine-in customers looking to park and make their way inside and other customers trying to pick-up their food on the go.
Those looking to adapt to the current situation and adding curbside pick-up should make sure their signage includes clear directions on what the next step is. Establishments such as Wawa are now providing curbside pick-up with clearly marked parking spaces and directions on how the customer should indicate they are ready to pick up their food. Make sure your signage alerts customers to the next step such as calling or texting a number or simply waiting for restaurant staff to greet them.
Why Digital Menu Boards are the Way to Go
Prior to the pandemic, eateries that offered a drive-thru often gained 60-70% of their sales via the drive-thru service. Americans are notorious for living life on the go, and being able to stay in the car to order and pick-up their food compliments a busy lifestyle. With that in mind, a drive-thru has a lot to consider when setting up their menu board.
A drive-thru's menu board provides the first contact a customer will have with your restaurant. Not only will your eatery's branding need to be present, but the menu options need to appear in a visually appealing and easy to understand manner. If your Allentown restaurant serves breakfast, lunch, and dinner, a digital sign allows you to easily swap the available menu items on display based on the time of day.
Digital menu boards also encourage customers to spend more money. With the ability to slide through various menu items at a given time, customers are aware of the entirety of your menu and what they can order. Some may be encouraged to add something from the $1 menu while others may add a dessert item they didn't realize you sold. Either way, bringing in more money is always the goal for any thriving business.
In addition to providing an aesthetically pleasing menu board that is likely to bring in more money, digital menu boards also make it easier on the business to swap out available menu items and change pricing. Instead of sending an employee out to manually cover something up or change a price, a digital menu board can easily and quickly be updated with the necessary changes.
Exterior Signage
Another important signage need that Lehigh County eateries tend to overlook are general exterior signs. These exterior signs can include banners that are easily visible from the road or shopping center to help inform potential customers of current promotions, or they can simply display a message letting potential customers know you're open for business via dine-in and curbside ordering. Including banners will help boost your sales as it attracts potential customers to come eat at your restaurant.
It's also important to include a simple "Thank You" or "Come Back Tomorrow" sign at the end of the drive-thru. These encouraging signs have been shown to have a positive impact on getting customers to return more frequently.
Does your Berks County restaurant need help updating its signage? Bartush Signs is proud to help the mid-atlantic region with all of its indoor and outdoor signage needs! We can provide restaurants with eye-catching LED displays as well as with banners, storefront signs, and directional signage.