Working in advertising and design, Bartush Signs always cherishes our incredible opportunity to work with many interesting people in many diverse industries.
Recently, we got the opportunity to assist restaurant entrepreneur Michael Colby with his latest food service venture: an all-new southern fried chicken joint that doesn't shy away from the identity of fast food.
Michael Colby is no stranger to the world of fast food franchises. Growing up in Pemberton, New Jersey, he began his career cleaning the kitchen at a local Burger King, where he immediately began climbing his way up the company ladder.
After a decade of diligence, Colby learned the tricks of the trade and eventually bought a Burger King franchise of his very own. After teaming up with his twin brother Craig, the duo's ownership grew to 15 Burger King franchises, which they sold before moving onto other opportunities.
"Our food is fun," Michael said. "We don't apologize for being fast food…" and they don't, but Colbie's Southern Kissed Chicken is so much more than that. Even former Philadelphia Phillies first baseman Ryan Howard saw the appeal. In fact, he's now a partner.
Colbie's Southern Kissed Chicken is proud to embrace their fast food roots, offering delicious and affordable menu options like chicken sandwiches, chicken sliders, chicken nuggets, and chicken tenders, all infused with a super-secret breading recipe developed in part by celebrity chef Fabio Viviani.
In addition, Colbie's Southern Kissed chicken also branches off into a variety of unique menu items like funnel cake, fried chocolate sandwich cookies, hush puppies, and pies that give this hospitality-focused restaurant a little county fair flare.
As with any wise new age restaurant however, healthier options are also available. This includes items like The Plain Jane (a grilled chicken option on a whole wheat bun), a vegan chicken alternative which still offers Viviani's signature breading along with spinach and tomato toppings, and a full line of upscale salads that you wouldn't typically expect from a quick-service restaurant.
Designed with a down-home decor composed of vintage Coca-Cola signs and a retro feel, the restaurant itself gives you the impression that you're living life on a southern-fried chicken farm. From the menu to the atmosphere, everything is authentic. For this fried chicken shop, the aesthetic is what matters, and that's where Bartush came in.
Inside the upcoming Mount Holly, New Jersey location, you'll be treated to an array of fascinating display signs including a brightly-colored neon chicken head crowing out "kiss me baby!" as well as the outdoor signage that proudly displays the name of the establishment and Colbie's signature logo, a classy southern Belle throwing a kiss from atop a water tower (she's featured inside as well).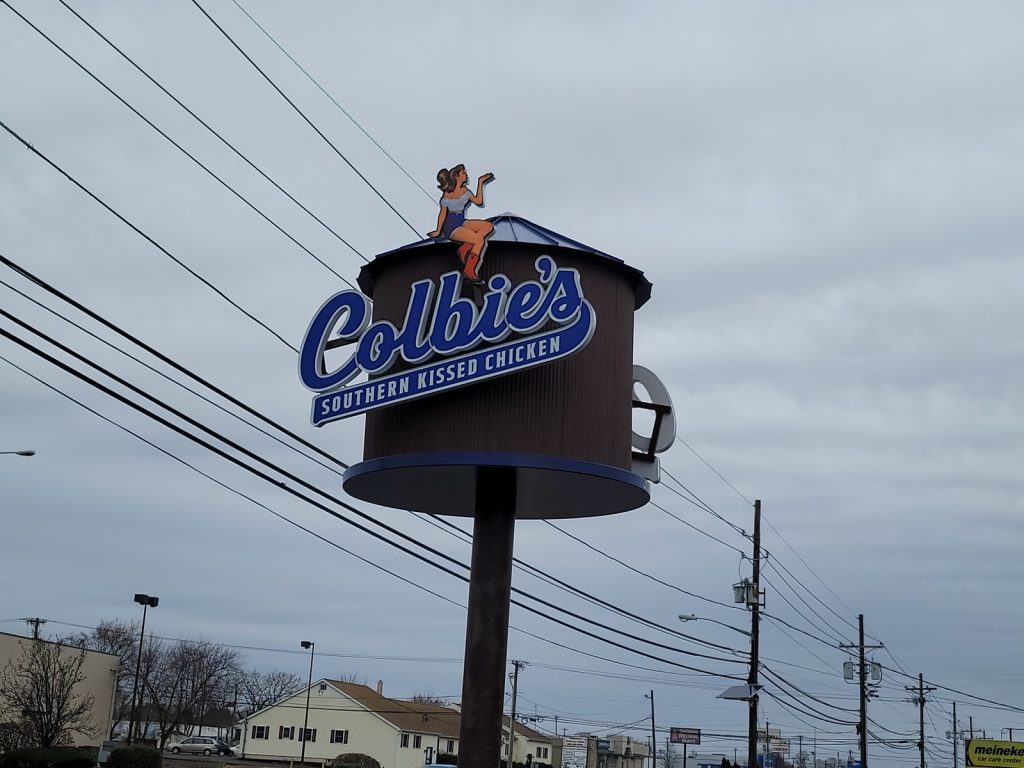 Colbie's Southern Kissed Chicken isn't the first time the Colby twins have trusted Bartush with their signage needs, as we've helped them develop advertising and indoor and outdoor displays across many of their establishments in the past.
For Colbie's Southern Kissed Chicken, the brothers came to Bartush with drawings and plans and some brilliant brainstorming ideas, and we worked alongside them to develop the designs that currently adorn their country-style eatery.
"Bartush is very creative with what they do. It's like a one-stop-shop."" Michael said. "They're very flexible. When I wanted to add lips to our sign, they were able to make it happen with no problem."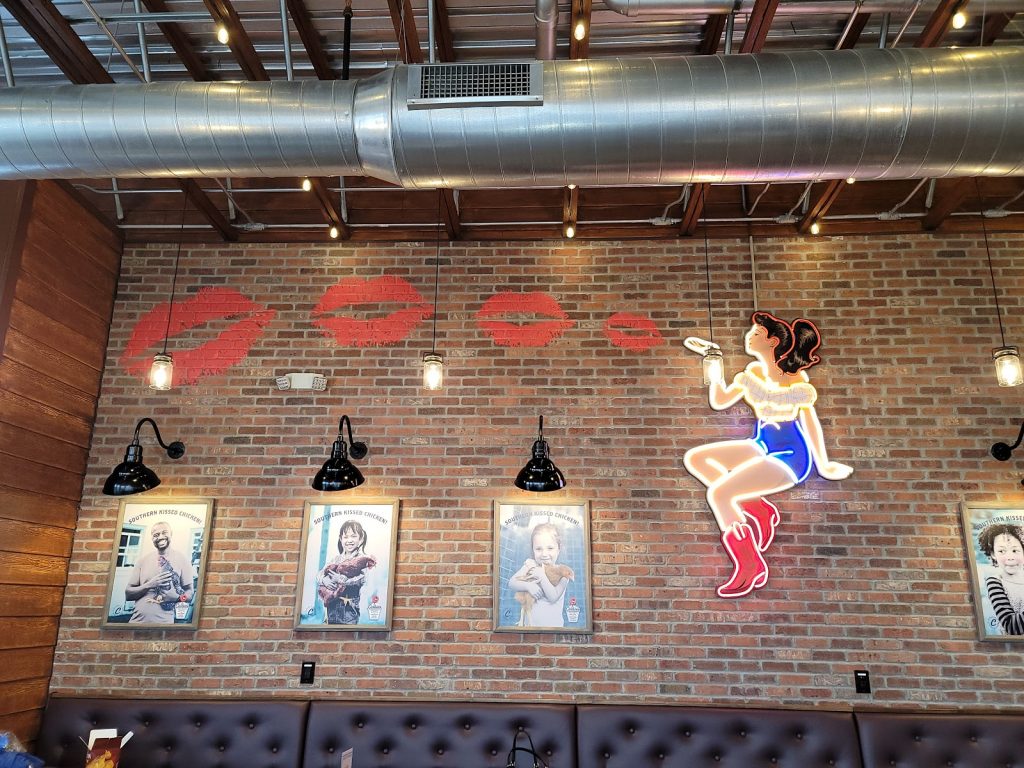 Today, Michael and Craig Colby own six Red Robin franchises, and numerous other restaurants and chains including the successful Chuck Lager: America's Tavern, which also features a menu developed by chef Fabio Viviani.
"The Restaurant industry gets in your blood. You just do what you know," Michael said.
Currently, Colbie's Southern Kissed Chicken is preparing for the grand opening of their Mount Holly, New Jersey location, which is currently scheduled for March 22, 2021.
As for the future of the franchise, Michael Colby has national aspirations. Following the New Jersey open, he plans to expand the franchise to multiple states including Florida, Delaware, and Pennsylvania, before eventually heading out west as well.
To check out more about Colbie's Southern Fried Chicken, visit their website www.eatatcolbies.com for a full rundown of the menu and learn more about the aesthetic.
Are you looking to commission a one-of-a-kind sign for your business or organization? If so, look no further than Bartush Signs! We are the premier display signage design company in Orwigsburg, PA. Contact us today to discuss your options!