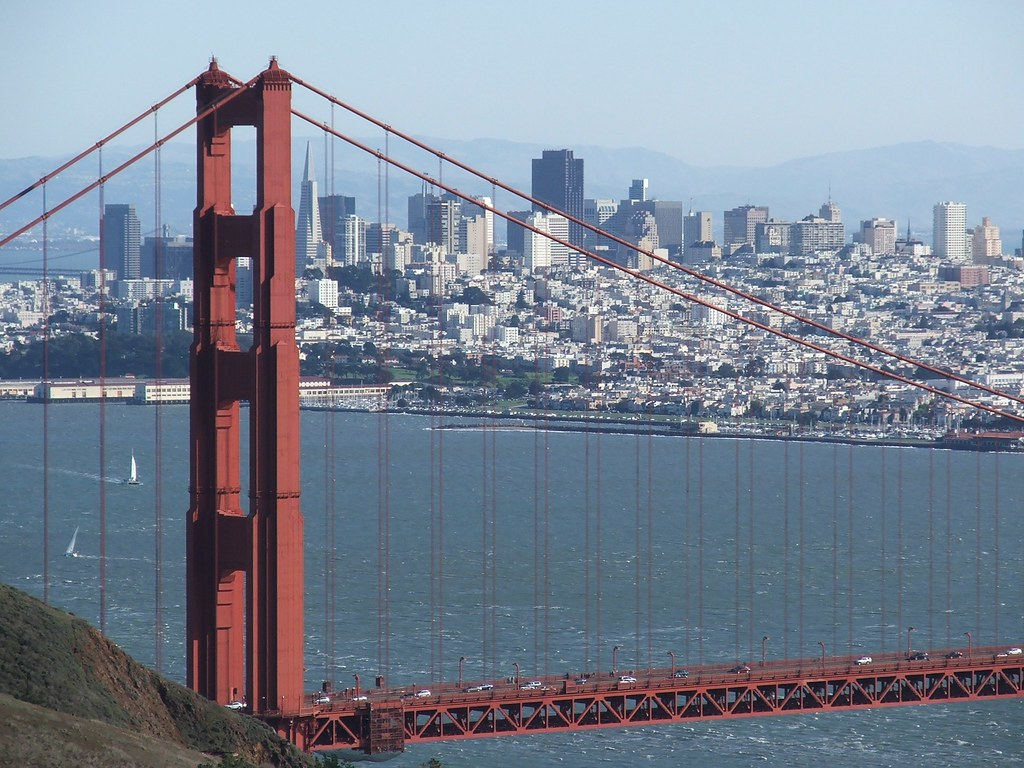 Few cities in the western United States are more steeped in colorful history than San Francisco, California. The Golden City is filled with remnants of the past, including many iconic signs and displays that have been around for quite some time.
Whether they are officially registered as city landmarks, or instantly recognizable due to their cameos in multiple television shows and films, there's plenty to lay your eyes on in the City by the Bay. Courtesy of the sign connoisseurs at Bartush, here are the six most iconic signs in San Fran.
Rigo 23's Murals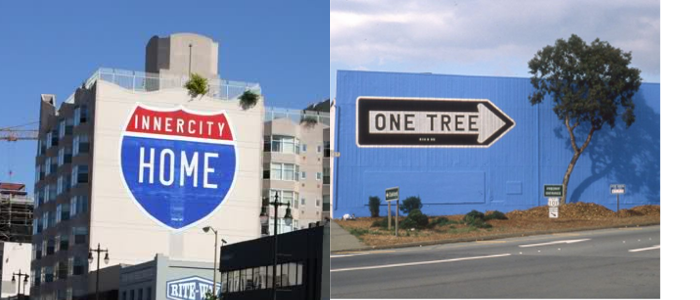 Rigo 23 is a Portuguese-born American muralist, painter, and political artist. Famous throughout the city of San Francisco for his many large, graphic "sign" murals, he is one of the founding members of the Clarion Alley Mural Project and is considered by many to be a key figure in the first generation of the San Francisco Mission School art movement.
Of his 20-plus murals, his "Innercity Home" and "One Tree" sign are among the most iconic. The Innercity Home sign, located at 241 6th Street, is designed to welcome people into the heart of the South of Market (SoMa) region, and the city of San Francisco itself, with hospitality and openness.
Rigo 23's "One Tree" sign has a more political meaning — it is meant to be a final reminder of the land's natural state before viewers enter the industrial section of the city.
Ghirardelli Square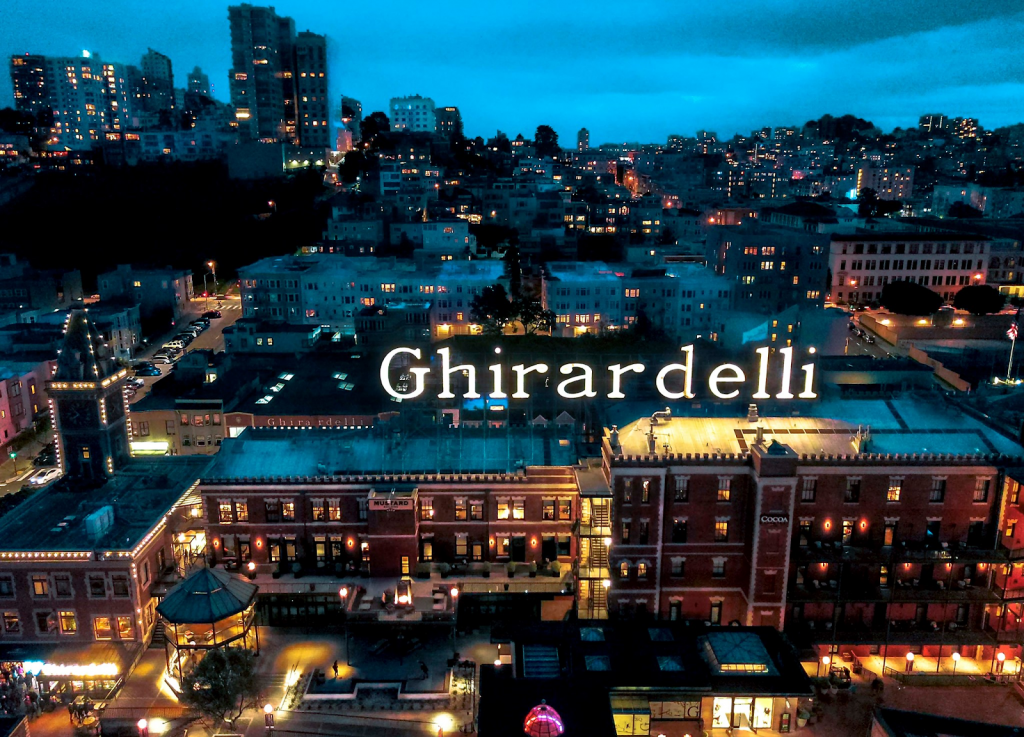 The classic, luminescent sign adorning the rooftops of San Franciso's Ghirardelli Square is one of the largest and most famous signs in the whole of the city. This sign was constructed in 1852, also making it one of the city's oldest.
Located at 900 North Point Street in the Marina area of San Fran, Ghirardelli Square is a landmark public space, including many of Frisco's most beloved shops and restaurants. A portion of the square was listed on the National Register of Historic Places in 1982.
Doggie Diner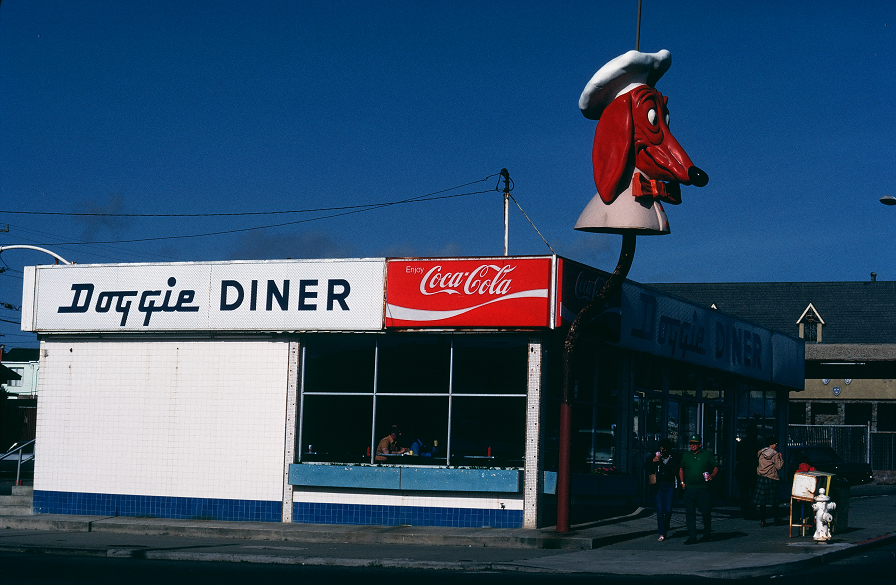 The famous 1960s restaurant chain, Doggie Diner, once featured multiple locations throughout California. At one time, Doggie Diner featured 30 locations scattered around the San Francisco Bay Area alone, but the restaurant went out of business in 1986 after attempting to compete with big chain restaurants like McDonald's and Burger King.
Each Doggie Diner featured a 7-foot tall rotating fiberglass bust of a wide-eyed, grinning dachshund, complete with a bow tie and chef's hat. The famous heads were designed by Bay Area billboard and layout designer, Harold Bachman.
The last surviving Doggie Diner Head, pictured here, now resides on Sloat Boulevard near the San Francisco Zoo. It was restored in 2014, and now enjoys a spot on the official list of San Francisco landmarks.
The Coca-Cola Signs

Oddly enough, the City of San Francisco has at one point featured a number of interesting Coca-Cola signs, each with their own unique story, background, and sometimes, even controversy.
The first Coca-Cola sign of note was once located at 701 Bryant Street, and was considered to be one of, if not the, most iconic billboard in the city. First constructed in 1937, the sign was switched over to energy-efficient lights in 2010. Unfortunately, however, Coca-Cola opted to entirely remove the billboard in late 2020, citing a desire to shift its advertising budget into more digital platforms.
The second example of San Francisco's iconic Coca-Cola advertising currently exists at Oracle Park, the home stadium of the San Francisco Giants Major League Baseball Team. This interesting Coke bottle sits behind the left field bleachers and serves as the center of the "Coca-Cola Fan Lot." This section of the park features an 80-foot long playground slide that lights up after every Giants home run.
Finally, we come to the most controversial bit of Coca-Cola advertising in San Fran, a vintage sign located at 601 Tompkins Avenue. This sign, which features an image of a silhouetted girl drinking from a bottle of Coke, was discovered by private homeowner Rochard Modolo, who discovered it after attempting to replace the siding of his home over 20 years ago.
In a heated battle that lasted between 2011 and 2012, local residents complained that the sign promotes obesity in children by encouraging tykes to drink it, as it is located directly across the street from Paul Revere Elementary School. Furthermore, there was some debate that the sign may have been subject to a law that prohibits corporate advertising in residential neighborhoods. Eventually, the sign was approved for historic restoration by the city's Planning Commission.
South San Francisco Hillside Sign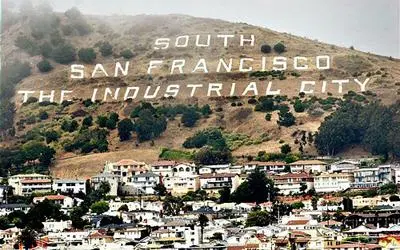 The South San Francisco Hillside Sign was created in 1920 and was listed on the National Register of Historic Places in 1996. The sign serves as a main feature of Sign Hill Park, which provides 30 acres of open space and nearly two miles of hiking trails.
The letters of this iconic sign, which was meant as a civic booster for the city, are set on the south side of a steep, 581-foot hill (part of the San Bruno Mountains). Its letters are laid out using anamorphosis, and they range from 48 to 65 feet in height.
Today, the sign is visible to drivers on northbound U.S. 101 and those enjoying flights to and from San Francisco International Airport.
Fisherman's Wharf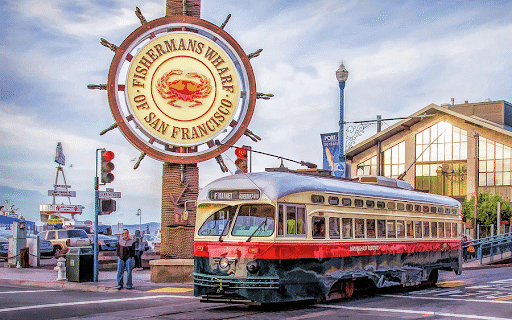 Fisherman's Wharf is not only the most iconic sign in San Francisco, it may even be the most iconic neighborhood in the entire city. A popular tourist attraction, the Fisherman's Wharf sign has been included in practically every tourist photo gallery of the Golden City, as well as many popular television shows like Full House, and major films like Marvel's Ant-Man and the Wasp.
In real-life, Fisherman's Wharf features the iconic F Market streetcar, Pier 39, San Franciso's Maritime National Historic Park, and countless beloved seafood restaurants.
Are you looking to commission a potentially iconic sign for your business or organization? If so, look no further than Bartush Signs! We are the premier display signage design company Orwigsburg, PA. Contact us today to discuss your options!