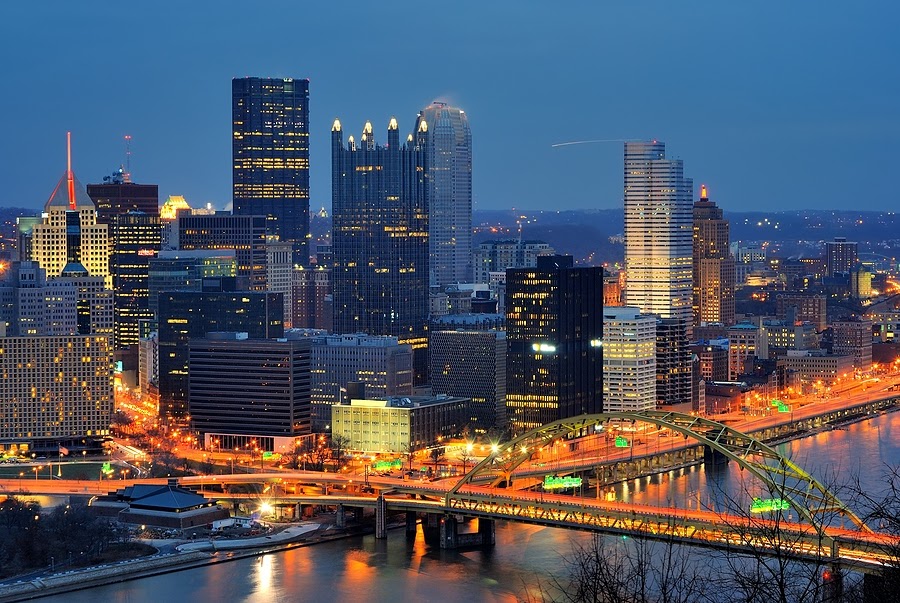 The city of Pittsburgh, Pennsylvania claims 90 separate neighborhoods and over 300,000 people who all proudly call this gorgeous metropolis home.
All throughout the Steel City, the buildings and streets are adorned with gorgeous architecture, brilliant lights, and yes, even an entertaining array of advertising displays that add a sense of character and tradition.
Courtesy of Bartush Signs, check out the six most iconic signs in the 'Burgh.
Little's Shoes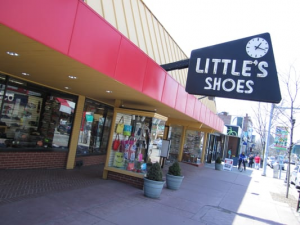 Located in Pittsburgh's Squirrel Hill neighborhood, Little's Shoes has helped generations of families help find the perfect pair of kicks. Famous for its incredible window shopping and dedicated staff, Little's is known as "a playground of shoes."
Little's simple, old-fashioned sign is known across the city, and serves as a welcome mat for shoe-seekers from all over the state. The sign utilizes its unique shape, straight-forward font, and simple-yet-eye-catching neon lighting to communicate a traditional sense of community.
Of course, there's also the sign's prominent two-handed numberless clock, which has been ticking continuously since 1932.
The Braddock Signs by James Simon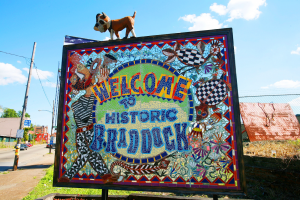 For many of Pittsburgh's most prominent neighborhoods, there's a unique welcome sign designed to communicate the feel and style of the borough in which they are constructed.
One of these neighborhoods, Pittsburgh's Braddock borough, is located in the easter suburbs of the city. The signs that herald visitors here are so unusual, that you almost have to look twice.
Most of these signs, which take the form of colorful mosaic-style art, were designed by artist James Simon, whose general disinterest in most of Pittsburgh's welcome signs inspired him to do something a little bit different.
"They all seemed kind of generic," says Simon. "I wanted to create an art piece that's also a nicely functional greeting for the city." According to Simon, his unique ceramic tile-and-glass style is extremely labor intensive.
Even though Simon's process certainly seems like quite the challenge, we're assuming most of yinz are proud to have such a unique display to look at each and every time you enter the neighborhood.
Sarris Candies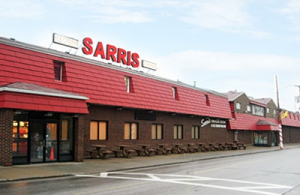 Sarris Candies, located at 511 Adams Avenue in Canonsburg, has been known for its superior rich taste and high quality standards in candy for over 50 years.
Founded in 1960 by Frank Sarris, a.k.a. "The Candy Man," this shop's chocolate factory, ice cream parlour, and candy shop covers an area equal in size to one full city block. It features over 100 yards of chocolate, penny candy, ice cream, and life-like plush toys.
The entire facility is capped by a simple red-lettered sign reading "Sarris" and a wall-mounted sign crafted in white enamel that reads "Sarris Chocolate Factory & Ice Cream Parlour."
PNC Park's Scoreboard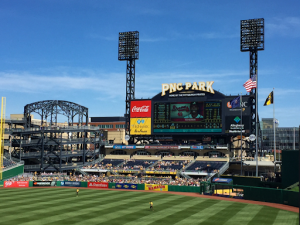 PNC Park, located at 115 Federal Street in Pittsburgh, has been home to the Pittsburgh Pirates Major League Baseball club for over twenty years. Constructed almost entirely of steel and limestone, PNC Stadium features a seating capacity for over 38,747 baseball fanatics.
PNC Park is widely considered to be one of the best ballparks in America thanks to its location, which overlooks breathtaking views of both the Pittsburgh skyline and the Allegheny River, a clear angle of the field from every seat in the house, and a timeless, traditional design capped by a glorious out-of-town scoreboard.
PNC Park's scoreboard measures 42 ft. by 24 ft. It is located behind the bleachers in left field, and is the first stadium in the MLB to include the score, inning, number of outs, and base runners of every other game simultaneously being played around the league.
Primanti Bros.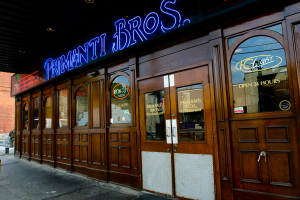 Primanti Bros. is an incredible chain of sandwich shops located across the easter United States, though the original deli was founded in and is most closely associated with the city of Pittsburgh, as it is considered a cultural icon of the area.
Founded in 1933, the chain is famous for its sandwiches composed of grilled meats, melted cheese, an oil and vinegar based coleslaw, tomato slices, and french fries between two thick slices of Italian bread.
No matter the location, you'll know when you've found the right place by the entryway sign written in exclusive Primanti Bros. font and brightly illuminated in neon colors electric blue or firehouse orange.
Heinz Field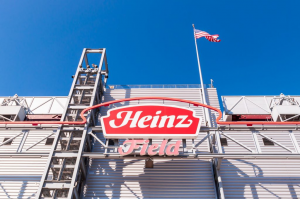 Pittsburgh is a sports city through and through, and in the Steel City, no sports team lives within the hearts of the souls of Pittsburghers more than the Steelers. The six-time Super Bowl Champion Steelers play their home games at Heinz Field.
Although this stadium first broke ground in 1999 and officially opened in 2001, there is no denying that Heinz field is now synonymous with home for the Black and Gold.
The stadium's sponsor, the Kraft Heinz company, secured sole naming rights early on. Today, the same logo that adorns ketchup bottles throughout the world also occupies the outside of the stadium, welcoming Steelers fans from all over the city and region.
In addition, Heinz Field also includes 35 ft high ketchup bottles on either side of the scoreboard. These bottles are constructed from 8,000 pounds of fiberglass, 375 feet of neon tubing, and 20,500 LED lights! Now that's a sign worth cheering for!
Are you looking to commission a potentially iconic sign for your business or organization? If so, look no further than Bartush Signs! We are the premier display signage design company Orwigsburg, PA. Contact us today to discuss your options!