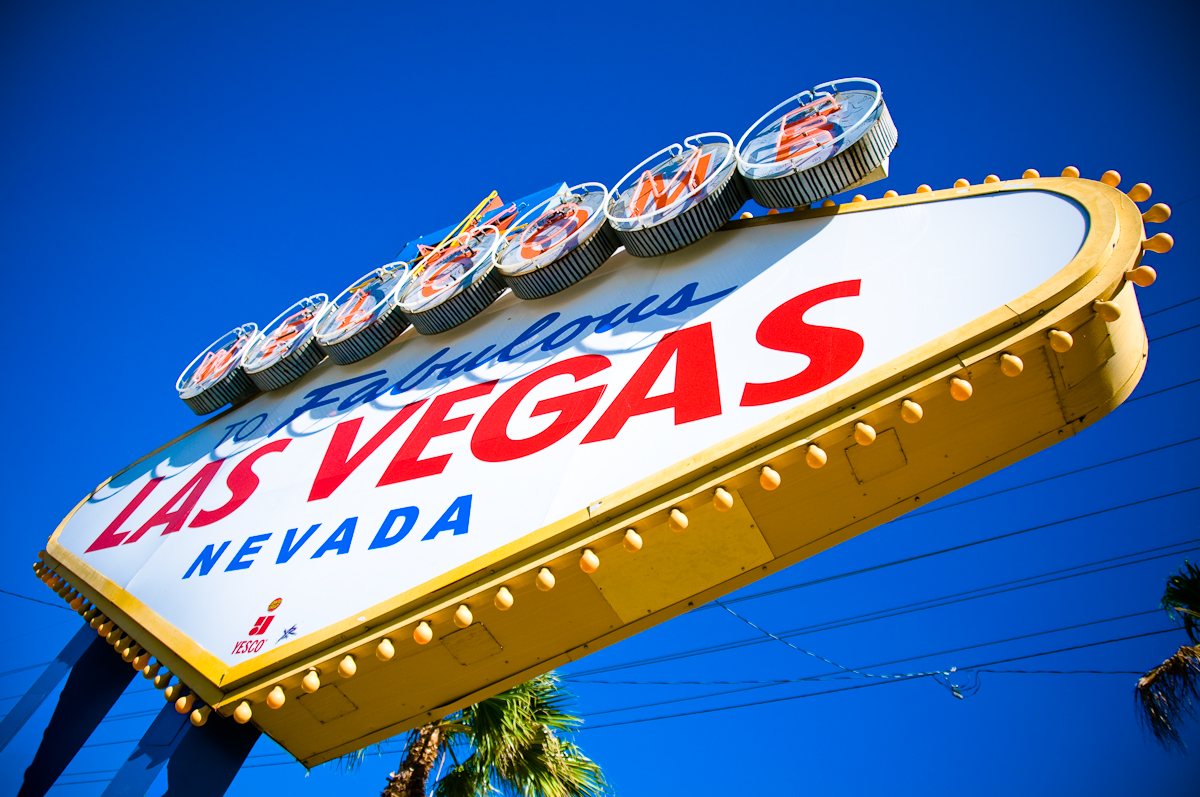 Second only to New York City, the fabulous city of Las Vegas is world-renowned as one of the most vibrant, historic, and iconic cities in all of the United States.
A city of grandiose and splendor, the streets of Vegas are adorned with creative displays advertising everything from clubs to casinos to hotels. Without further ado, here are the most iconic signs in Sin City.
Las Vegas In-N-Out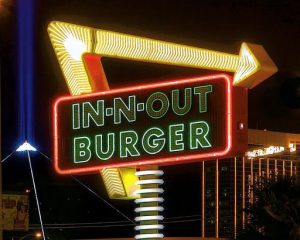 Beloved burger chain In-N-Out isn't exclusive to Las Vegas, but this location's impressive sign certainly is! We mean come on, it even rotates!
While any In-N-Out signage is all you need to send customers scrambling in for a Double Double, this particular display features a unique Las Vegas flare. Located on Tropicana Avenue, this eye-catching sign is almost as tantalizing as the burgers they serve up all night long.
The Paris Las Vegas Casino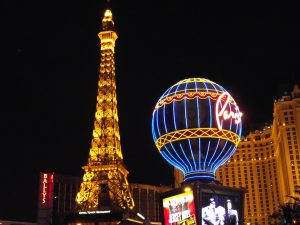 Most of the time, modern Las Vegas Casinos opt for a sleek, flat, and bright LED board, and there's really nothing wrong with that.
But the Paris Las Vegas Casino (which opened in 1999 and was renovated in 2010-11) had other ideas. This brilliant casino made a grand gesture when they constructed their 180-foot neon balloon display. The balloon portion of the building was modeled after the "Montgolfier Balloon," the first passenger-carrying balloon which flew over the city of Paris in 1783.
Of course, no hotel called "Paris" would be complete without a magnificently lit reproduction eiffel tower.
The Circus Circus Clown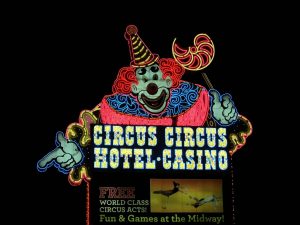 The Circus Circus Hotel and Casino's 123-foot clown has flashed his charming (if a little creepy) smile over the Las Vegas Strip since the big-top themed hotel first opened its doors way back in 1968.
Regarded as the first hotel in The Silver City to target families, Circus Circus remains a popular stop for anyone looking for a little child-like fun or for families with children of their own.
Not pictured is the magnificent pink-and-gold porte-cochère which adorns the actual entranceway of Circus Circus, which features thousands of dotted, sparkling lights.
The Flamingo Hotel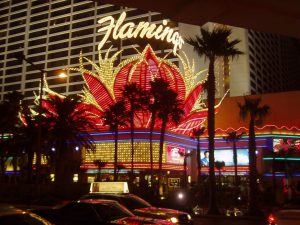 One of the oldest and most prestigious locales in all of Sin City, the Flamingo Hotel first opened its doors in 1946. To date, it is the only Las Vegas resort that has survived since that decade. This hotel, with its spectacular shimmering lights and infamous reputation, was originally owned and operated by notorious mobster Bugsy Siegel.
Since then, the Flamingo has changed management and undergone construction several times, but still, the ornate pink and white flashing Flamingo sign still overlooks the Las Vegas strip, sending out nostalgic vibes of days gone by to everyone who lays eyes on it.
Inside and outside the building, neon flamingos can be seen nearly everywhere you look.
Welcome to Fabulous Las Vegas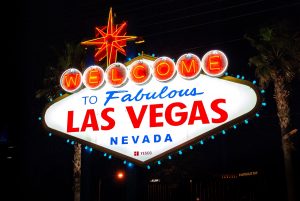 Is this cheating? We don't think so! But just in case, we'll keep an eye out for the bouncers…
The truth is, no list of famous Las Vegas signage would be complete without the inclusion of the Las Vegas sign, the one that attracts people from all over the world to the America's Playground.
Originally designed in 1959 by famous neon sign artist Betty Willis, the "Welcome to Las Vegas" sign has become a symbol of the city, adorning everything from keychains and sport uniforms to shot glasses and t-shirts.
Now registered as a historic landmark, this sign has its own parking lot for visitors hoping to snap a photo for the memory. It is located in the median at 5100 Las Vegas Boulevard South.
What might come as a surprise to many who have never visited Vegas, is that this sign is only 25-feet tall and fitted on a classic roadside pole design. The backside of the sign is usually overlooked in famous photos and merchandise, but it reads "Drive Carefully Come Back Soon."
Are you looking to commission a potentially iconic sign for your business or organization? If so, look no further than Bartush Signs! We are the premier display signage design company Orwigsburg, PA. Contact us today to discuss your options!