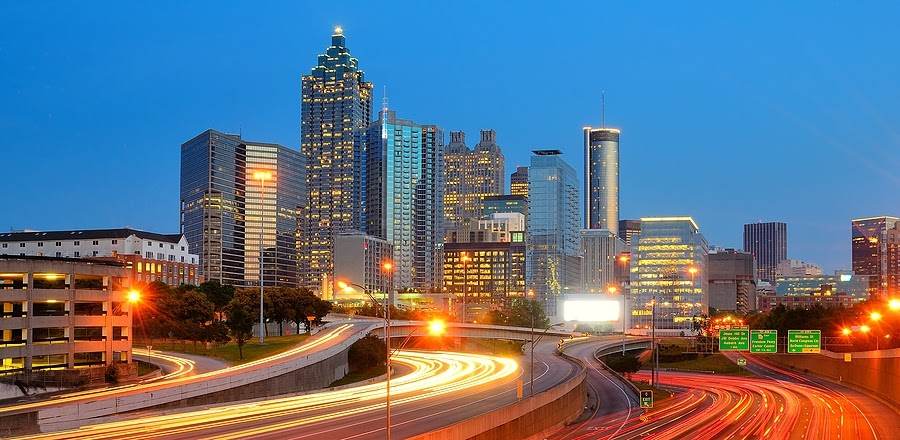 The city of Atlanta, Georgia is quirky, historic, and some residents would even say, just plain weird. The Big Peach is vibrant and attractive, with a constant stream of rapid change rolling through its charming streets.
In keeping with Hotlanta's penchant for creating mood-lifting, night-brightening atmosphere, here are the five most iconic signage displays in Atlanta, Georgia courtesy of Bartush Signs.
The Fox Theatre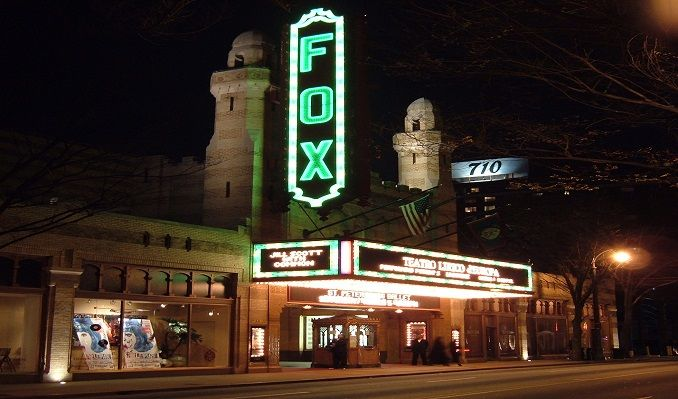 Located at 660 Peachtree Street NE, Atlanta's historic Fox Theatre was opened in 1929. Today, it's vintage neon tower and brilliant marquee are centerpieces of Atlanta's arts and culture district.
As one of Atlanta's premiere venues for live entertainment, the Fox's 4,665 seat theatre hosts more than 150 performances a year ranging from Broadway, to rock shows, to comedy shows, to movies. In December 2009, Billboard Magazine ranked the Fox Theatre in Atlanta as "The #1 non-residency venue worldwide for the decade (5,000 seats or less)."
During the 1970s, the Fox Theatre and its historic signage was threatened with demolition. Luckily plans changed, and today, this luminescent display is still visible for all to see.
Majestic Diner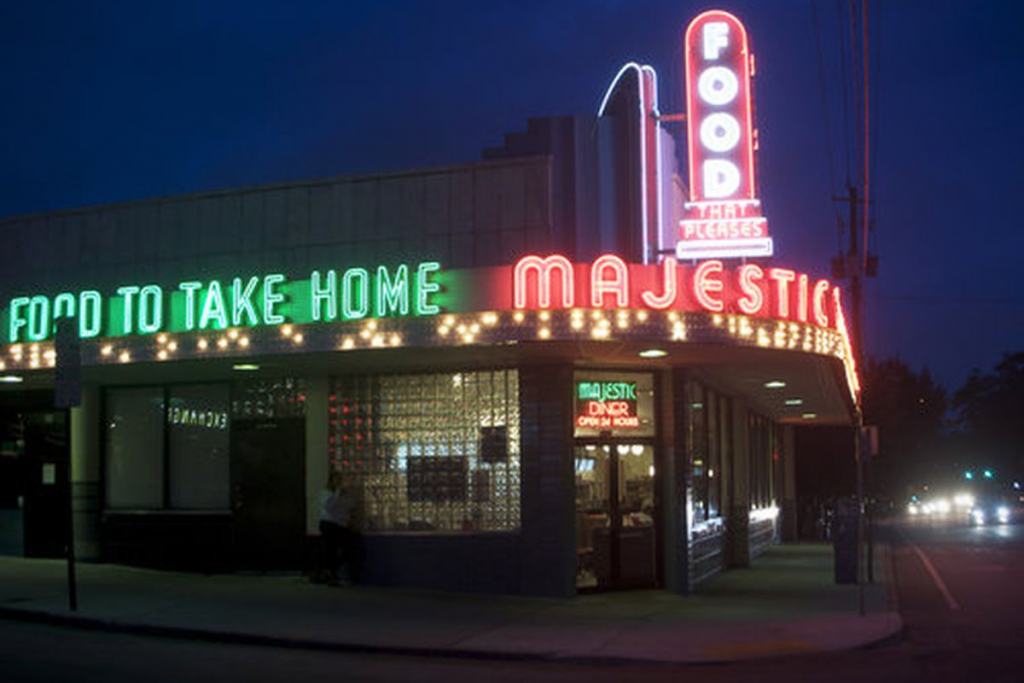 Speaking of neon, we can't forget about the Majestic Diner, located at 1031 Ponce de Leon Ave NE. Boasting "Food that Pleases" since 1929, this restaurant has beckoned many a late night wanderer to a delicious 4 a.m. breakfast, though the restaurant has recently adjusted its hours to be open only from 7:30 a.m. to 2:30 p.m.
Still, the diner is coated in delightful green, red, and white neon that advertises not only its many delicious menu items, but also its storied history and commitment to fantastic customer service.
Vortex Bar and Grill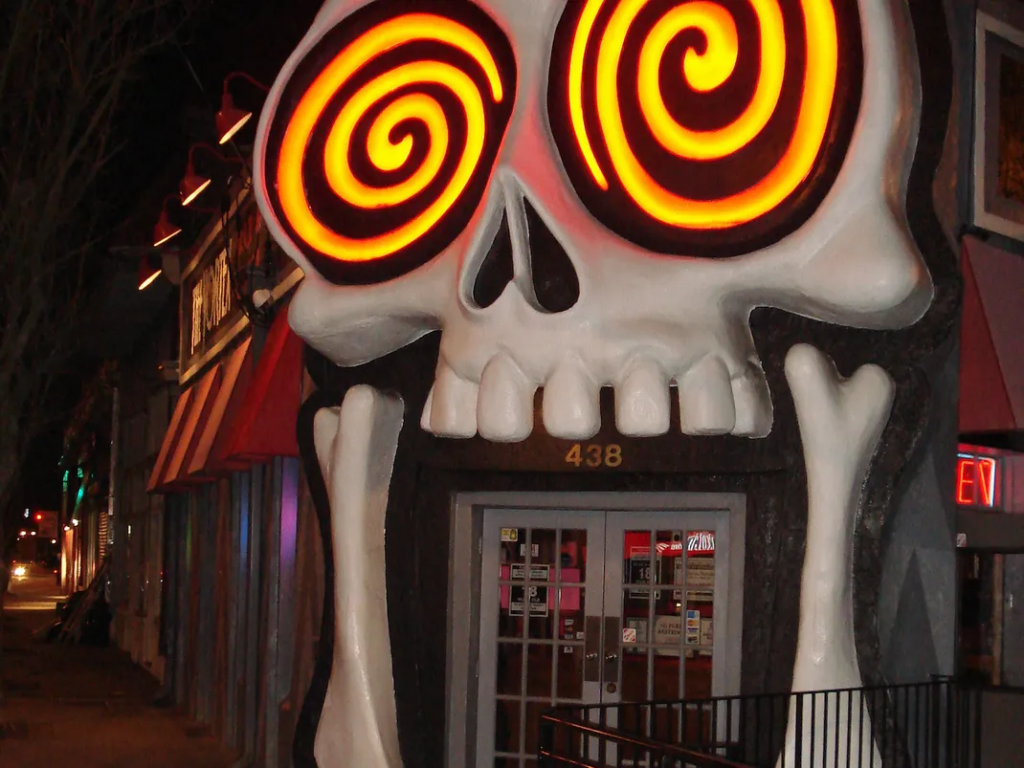 Though it isn't considered by locals to be a true Atlanta OG, the Vortex Bar and Grill, located at 438 Moreland Ave NE, is quickly becoming one of the most recognizable displays in Dogwood City.
Featuring an elaborate and wild spiraled-eye skull entryway, complete with a toothy grin and wide-open jaw bones, the Vortex claims to serve the best burgers in Atlanta. The Vortex also offers a huge selection of beer, spirits and specialty cocktails, and serves some ridiculously indulgent bar food.
Ebenezer Baptist Church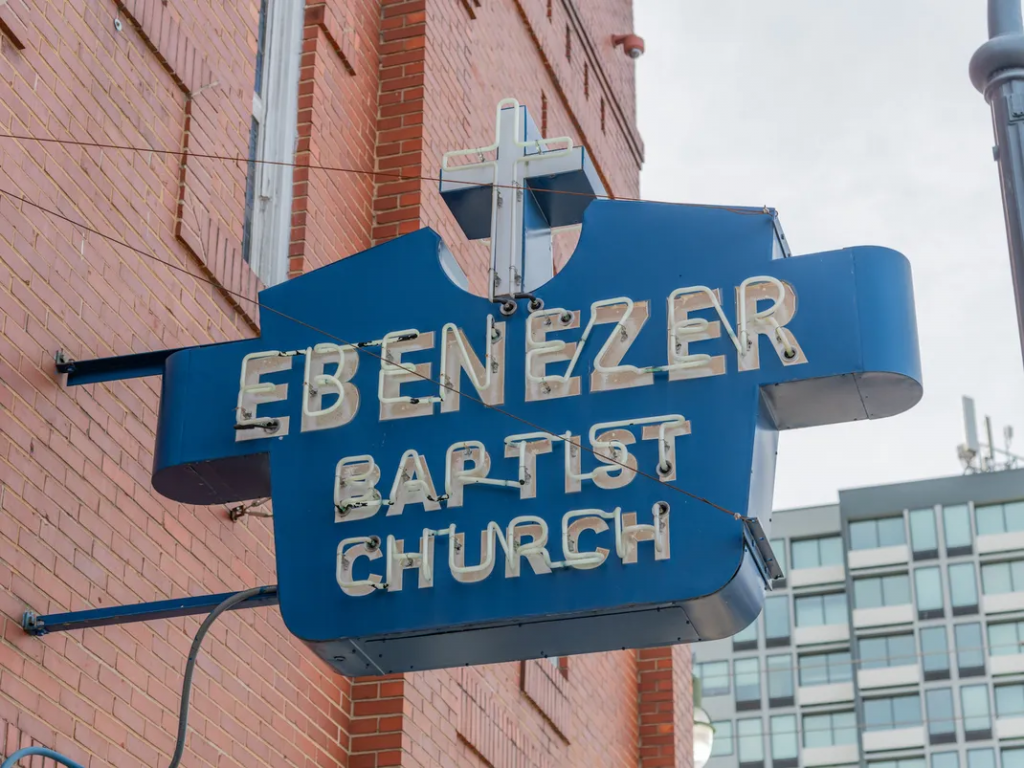 Historically speaking, Ebenezer Baptist Church, located at 407 Auburn Ave NE, is the most culturally significant entry on our list.
This simple blue and white sign featuring brilliant white neon marks Dr. Martin Luther King Jr.'s personal church, where he preached many of his civil right philosophies over the years. In 2001, the church was repaired during Part One of a two-part historic Atlanta restoration project.
TECH Tower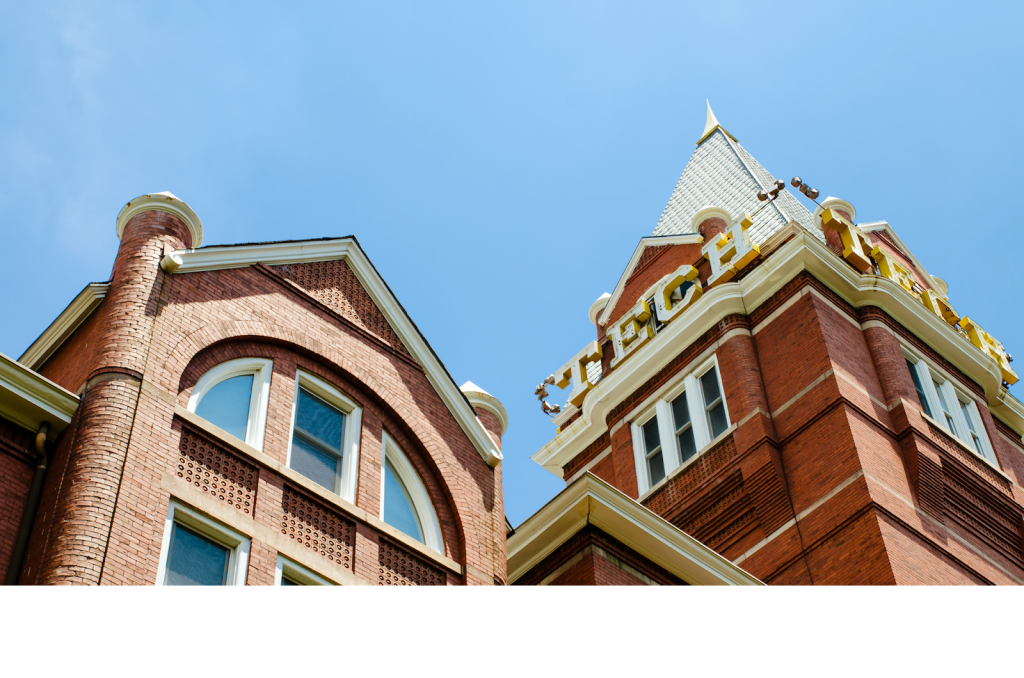 Located on the campus of the Georgia Institute of Technology at 225 North Avenue Northwest in Harrison Square, the TECH Tower features lighted signs reading "TECH" on all four sides of the seven-story structure.
TECH Tower can be seen from virtually anywhere on campus, and it's classic gold lettering has prompted several mischievous students to steal its iconic letter T so many times that the university was forced to launch a campaign designed specifically to "Keep The T In Tech."
Still, this display's letter T can be considered a world traveler, having been photographed with students on vacation all over the world. If that's not iconic, we don't know what is.
Are you looking to commission a potentially iconic sign for your business or organization? If so, look no further than Bartush Signs! We are the premier display signage design company Orwigsburg, PA. Contact us today to discuss your options!