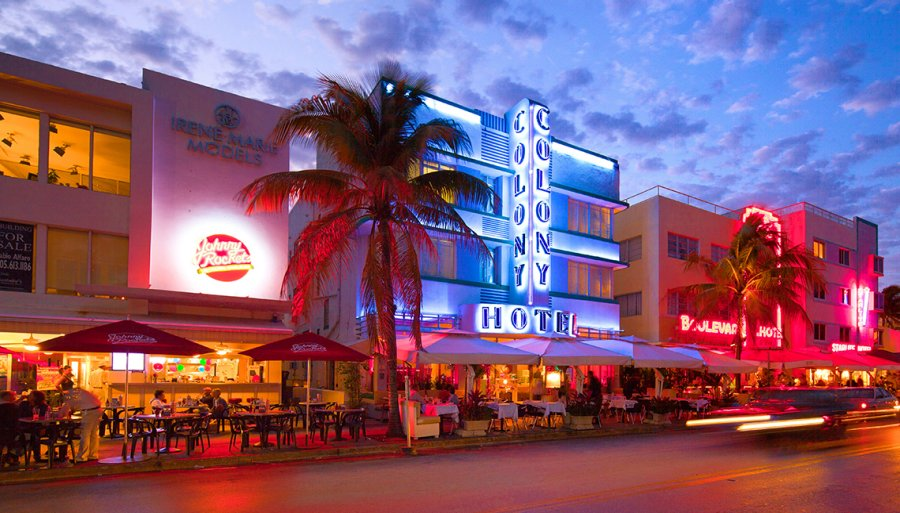 There are few American cities more synonymous with nightlife than Miami, Florida. Also known as Magic City, this beachfront metropolis is home to some of the most iconic displays of signage on the east coast.
In fact, one aspect of vibrant signage as almost as central to the City of Miami as heat, dolphins, and the beach — and that, is neon. Lots and lots of neon. Without further ado, here are the five most iconic signs in Miami, Florida.
Mac's Club Deuce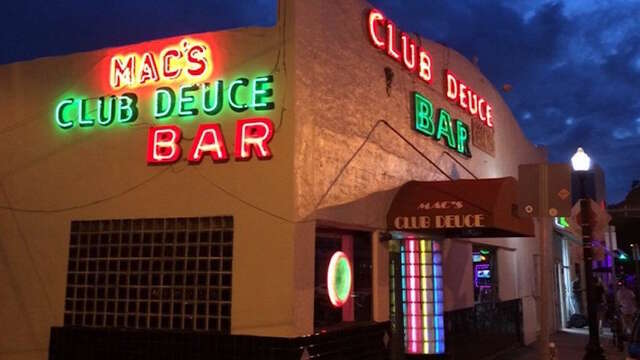 Mac's Club Deuce, located at 222 14th Street in Miami's South Beach, is famous for claiming to be the "oldest bar in Miami." Though this claim has been disputed, there's no question that Mac's has been a Miami landmark for nearly 100 years.
Club Deuce was owned by Mac Klein from 1964 right up until his death in 2016 at age 101. Under his ownership, Mac's was named one of the "Best Dive Bars in America" by Playboy and featured on several Anthony Bourdain television specials.
The bar features a vibrant-yet-simple red and green neon lettered sign that let's thirsty Miami locals and tourists alike know that they're about to enter somewhere special.
Tobacco Road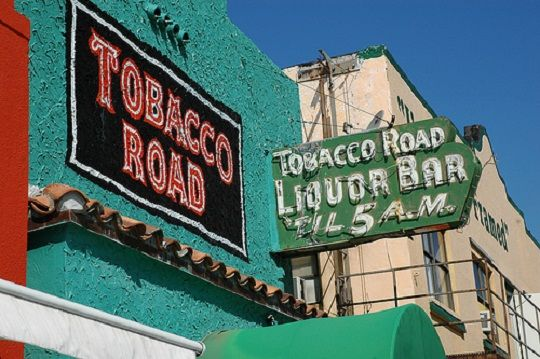 Originally located at 626 South Miami Avenue in Brickell, this popular dive bar really was the oldest bar in Miami, having possibly been opened as early as 1912, though the building itself was not constructed until 1915.
During Prohibition, Tobacco Road was frequently shut down for run-ins with the law, as it's second floor was famous in town as a popular speakeasy.
Unfortunately, the land on which Tobacco Road was built was sold in 2012 for $12.5 million. On October 26, 2014, Tobacco Road was demolished. An estimated 4,000 people came to have a drink on its last night in town.
During its nearly 100-year run, Tobacco Road's hand-painted red and green sign was one of Miami's most iconic and recognizable. It also featured a classic neon sign, which proudly let passers-by know that the establishment was open until 5 a.m.
Breakwater Hotel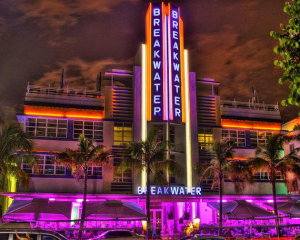 If it's not bars and beaches, it's vibrant and luminescent hotels that Magic City is known for, and the Breakwater Hotel is one that's impossible to miss. Located at 940 Ocean Drive in Miami Beach, this hotel was built in 1939 by architect Anton Skislewicz.
A classic art deco building, the Breakwater's gigantic yellow, blue, and purple glow shines as bright as any building in town, and it hasn't changed much in over 80 years. Miami tourists interested in staying at the Breakwater can still do so, as the hotel features luxurious rooms at "the best value under the sun."
Ball & Chain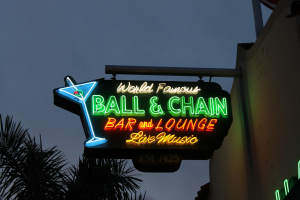 Originally opened on Calle Ocho in 1935, the Ball & Chain was closed in 1957, but it reopened at the same location in 2014. Today, this world famous club's official address is 1513 SW 8th Street in Little Havana.
A bar that was once frequented by gangsters and jazz legends, the Ball & Chain is still frequented by today's Hollywood elite. In fact, the location's hard-partying atmosphere is so infamous that the City of Miami itself has beef with the owners. In October of 2020, the Ball & Chain was shut down by the Miami city commission for unspecified "code violations."
It's current iconic neon sign is an exact replica of the original, and the entire establishment pays homage to Little Havana's classic style with Cuban-style live music, food, and drink.
Colony Hotel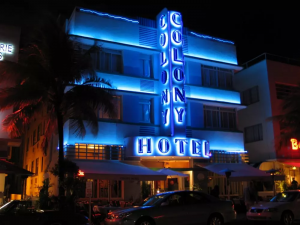 Located in the heart of South Beach at 736 Ocean Drive, the Colony Hotel is one of the most easily-recognizable buildings in the city. This is due in large part to its frequent inclusion in the establishing shots of a number of movies and television shows that take place in Miami.
Fans of historic hotels will love the Colony, as it has been an undisputed symbol of beachfront hospitality since it first opened in 1935. It stands directly across from Lummus Park Beach, which is considered Miami's best beachfront spot for scantily clad partiers and all-night action.
Another classic art deco treasure, the Colony Hotel's extremely bright white-blue neon tower sign is one of the most popular spots for tourists looking to take photos as soon as the sun goes down in The Sunshine State.
Are you looking to commission a potentially iconic sign for your business or organization? If so, look no further than Bartush Signs! We are the premier display signage design company Orwigsburg, PA. Contact us today to discuss your options!