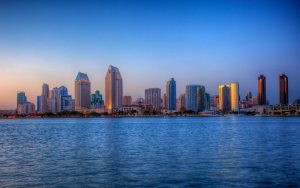 San Diego is one of the largest cities in California. It's affectionately known as "America's Finest City," a nickname that is backed up by more than just wonderful weather. San Diego boasts miles of beautiful beaches and a rich history going back hundreds of years. Although SeaWorld and ComicCon may be the things that first come to mind when you think of this city, some of its most noteworthy spots are the signs that have become part of the fabric of San Diego over the years. From notable neighborhoods to iconic photo opportunities, these signs are always worth visiting and appreciating.
Gaslamp Quarter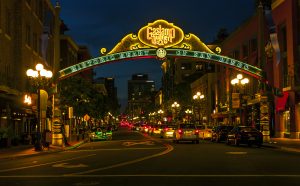 The Gaslamp Quarter is one of the most famous neighborhoods in San Diego, known today for its nightlife, restaurant scene, and theaters. One of the interesting things about San Diego is that many of its neighborhoods are marked with unique and vibrant signs, and few are better known than that of the Gaslamp Quarter. This detailed sign arches over the street and is beautiful by day, but even better after dark when both the sign and the old-fashioned lamps that flank it are illuminated.
The Boulevard
The Boulevard– specifically, El Cajon Boulevard– is referred to as "The Gateway to MidCity." It's lined with small businesses and is centrally located near many other important neighborhoods, such as North Park and University Heights. The fabulous neon sign was constructed in the eighties, in part to mark the street's importance and cement it as a destination in its own right, but also as a nod to the neon signs that were once prevalent along The Boulevard. The sign, located at the intersection of Park and El Cajon Boulevard, evokes a sense of timelessness and is a can't-miss spot in the city!
Little Italy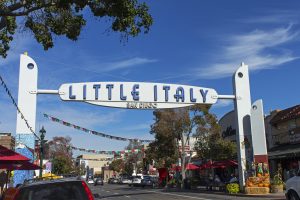 While plenty of American cities have their own Little Italy, San Diego's Little Italy is a special spot. With parks and farmers' markets, art walks and film festivals, there's plenty to do for any traveler to the city, and of course, you'll never go hungry in this neighborhood. If you take a closer look, you'll notice subtle nautical elements to the sign, such as the portholes at the top of the signposts and the tile work at the bottom. This is in reference to both the immigrants who traveled from Italy to America, and to San Diego's role as a major hub of the tuna industry during the 20th century. 
Greetings from San Diego Mural
There couldn't be a better photo opportunity in the city than the classic postcard-style mural located in North Park. Painted in 2016 by Victor Ving, Lisa Veggs, and local San Diego artist Persue, the "Greetings from San Diego" mural is tucked out of the way of the street, meaning you won't have to brave the traffic to grab your perfect vacation Instagram picture! Each letter holds an iconic San Diego view or reference, such as the Hotel del Coronado, Sunset Cliffs, or the Giant Dipper roller coaster at Belmont Park.
San Diego Zoo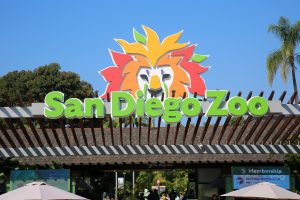 The San Diego Zoo is a major destination within the city for travelers of all ages. Located in Balboa Park, it is one of the most visited zoos in America. In addition to the zoo itself, it also operates a safari park. This particular sign was updated in recent years due to a change in one of the zoo's main attractions– that it housed and bred giant pandas. The pandas returned to China in 2019, and so the sign that featured them received a facelift. It now has a more modern look and features a colorful stylized lion. 
San Diego's signs are part of what makes the city so special and memorable. Whether they beckon you into an exciting attraction or commemorate a proud history, they are eye-catching, beautiful, and undoubtedly landmarks of the city. These iconic signs in San Diego are not to be missed, whether you're a visitor or you call America's Finest City your home. 
Are you interested in commissioning an eye-catching sign for your business or organization? If so, Bartush Signs can help! We are the premier display signage company in Orwigsburg, PA. Contact us today to discuss your options!