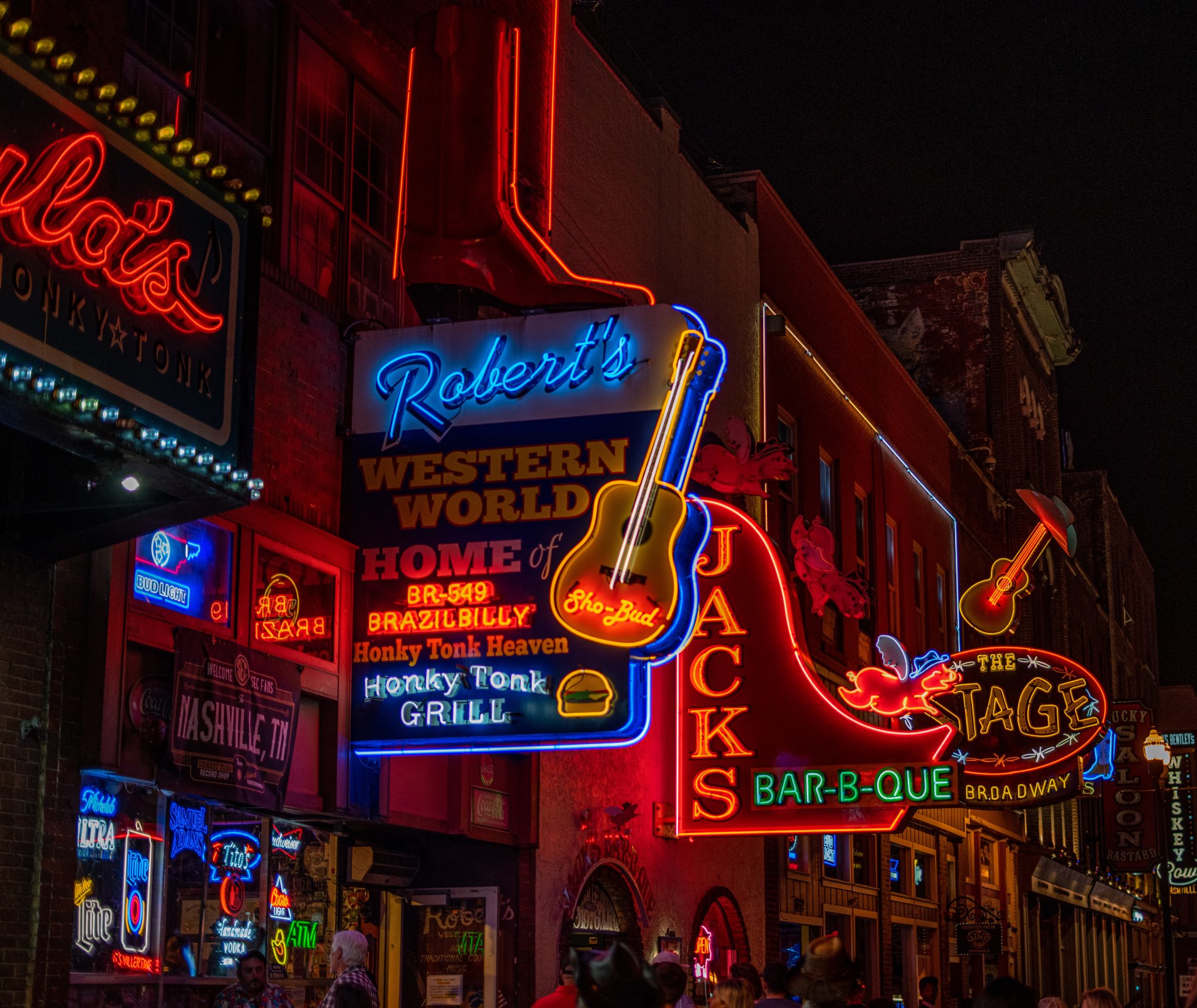 Music may be the first thing that comes to mind at the mention of Nashville, but that's far from the only thing the city has to offer. Nashville, TN, is a vibrant location with many attractions, including restaurants, museums, and, of course, picturesque spots. Some of the most recognizable photo ops in the city are under the many iconic signs in Nashville.
Signs are a great way to establish a business and can help establishments stand out with eye-catching designs. However, signs are also a form of artwork that often don't receive the attention they deserve. Read on to find out about some of the best signage displays that not only serve as Nashville landmarks to help you navigate the city but are also attractions in their own right.
1. Greetings From Nashville
Appropriately listed first is the very recognizable Greetings from Nashville sign. This epic masterpiece is a mural of a Nashville postcard on a wall. This art piece also contains a reference to ex-president Andrew Jackson as he once owned property in Nashville. Unfortunately, the building that housed this sign is no longer standing but, fear not if you are hoping to capture this photo op during your visit. A new postcard mural is at 111 Fourth Avenue South. 
2. The Loveless Cafe
Next is the iconic Loveless Cafe sign. This sign is a picturesque indicator that you are nearing the best chicken and biscuits in town at 8400 Highway 100. First erected in 1951, it is still looking as good as ever. 
3. The Rosepepper Cantina
The iconic sign with the best sense of humor in Nashville is the Rosepepper Cantina marquee. This sign features limericks and jokes that ooze personality. This has led to it becoming an iconic landmark in Nashville. On top of this, the hilarious sign often goes viral on Instagram. For comedy fans, this is a highlight of Nashville located at 1907 Eastland Ave. that you won't want to miss!
4. B.B. King's Blues Club
B.B. King's Blues Club is another business with a landmark sign that is a must-see. This sign belongs to the iconic B.B. Kings Blues Club that sits at 152 2nd Ave. North. The sign is high up off the street, and you will notice it by the crown on top. The crown is a subtle reference to the club's owner, B.B. King. 
5. The Nashville Toy Museum
The next sign appeals to the child within all of us. The Nashville Toy Museum is an epic showcase of the history of toys. This museum hosts one of the largest privately-owned toy collections globally, including a 10-foot model ship and a working model train set that runs throughout the building. This fantastic museum is located at 2613 McGavock Pike and features a  beautiful mural painted with playful green and yellow colors to match the museum's collections.
6. Bar-B-Cutie
The Bar-B-Cutie sign is an iconic piece of artwork on display at 5221 Nolensville Pike in Nashville. The retro sign has been in place for decades, and it is a clear indication that you are close to one of the most celebrated BBQ spots in the city. Bar-B-Cutie has restaurants across the U.S and Europe, and their iconic imagery is vital to their success. This sign is definitely a must-see while in town. 
7. The Pancake Pantry
The Pancake Pantry is such a popular breakfast and brunch location it needs no introduction. The restaurant often has a line around the block as a testimony to its popularity. Despite this, the Pancake Pantry sign is an iconic piece of Nashville. Made from wood, the sign would not look out of place outside a saloon in a western movie. Located at 1796 21st Ave. South, this spot is a must-see for lovers of signs and food alike. 
8. Nashville Looks Good On You
No list of iconic signs in Nashville would be complete without the Nashville Looks Good on You mural. Located at 2509 12th Ave. South, this black and white sign is a very Instagram-able location. The sign provides excellent contrasting colors that are ideal for photography. On top of this, the sign has a positive and uplifting message that everyone can enjoy. 
9. The Bluebird Cafe
Another spot with an eye-catching signage display is the Bluebird Cafe. This cozy live music space is an iconic piece of Nashville history. The Bluebird Cafe is one of the top venues in Nashville's thriving music scene and is world-famous for its reputation as a hotspot for visiting celebrities. Be sure to make time to check out Bluebird Cafe and its iconic sign when you are in town. 
10. The Live Music Venue Markers
Last but certainly not least, of the iconic signs in Nashville are the Live Music Venue Markers. These signs are located throughout the city to point you in the direction of the many venues for Nashville's iconic music scene. The guitar-pick-shaped music venue makers are hard to miss and are a testament to Nashville's rich culture. 
Nashville signs are not to be missed by visitors and locals alike. Whether they advertise a music venue steeped in history or create a seriously stylish photo op that is sure to light up your Instagram, you are sure to enjoy checking out what Music City has to offer! Are you looking to commission an eye-catching sign for your business or organization? If so,  Bartush Signs can help! We are the premier display signage design company in Orwigsburg, PA. Contact us today to discuss your options!