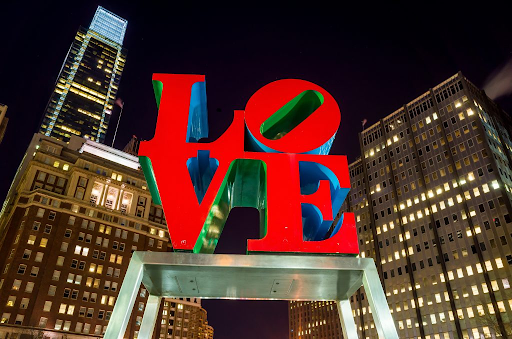 Bartush Signs is the premier display signage design company Orwigsburg, PA, so it only makes sense that there's a special place in our hearts for the iconic signage of Philadelphia, a city that lies less than two hours away!
Often overlooked when it comes to vibrant and impressive displays, the city of Philadelphia offers a rich advertising history that extends back several decades. Goodwill toward others and an old-fashioned good time are just two of the characteristics that define the City of Brotherly Love.
Check out Philadelphia's six most iconic signs right here courtesy of Bartush.
Market Street & Penn's Landing

All throughout the city of Philadelphia, uniquely designed street signs are abundant. Two of the coolest stretch across the entryway to both Market Street and Penn's Landing.
These interesting arches serve as a beacon that let's passers-by know exactly which direction to head in order to get from Penn's Landing to Old City and vice-versa. When the sun goes down at night, these signs' electric blue lighting guides the way.
The Phillies' Liberty Bell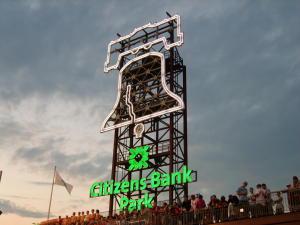 Philadelphia is a hot-bed of passionate sports fans, one of the biggest sports markets in the nation in fact. The city's Major League Baseball team, the Philadelphia Phillies, are one of the city's most popular and symbolic sports franchises.
After sitting idle for 15 years at Veterans Stadium, the Phillies' Liberty Bell display was moved to the team's new home of Citizens Bank Park, where it stands today to attract crowds of Phillies fans who relish in its history and enjoy snapping photos for the social media accounts.
The PSFS Sign at Loews Philadelphia Hotel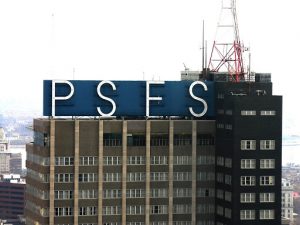 A display sign doesn't always have to be extravagant to be considered iconic, just take a look at Philadelphia's Loews Hotel (formerly known as the PSFS Building). The building that this display currently sits atop is a vital part of the Philadelphia skyline.
Now a National Historic Landmark, this building was built in 1932 as the nation's first modern skyscraper. It is punctuated by the Philadelphia Saving Fund Society (PSFS) sign, which is made up of two sets of 26-foot tall neon lettering.
It is estimated that this display can be seen from approximately 20 miles away.
The Philadelphia Zoo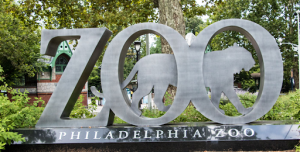 As the first true zoo ever incorporated in the United States, the Philadelphia Zoo is an iconic landmark as a whole, but it's unique and intricately crafted sign is an animal all its own.
To create this eye-catching display, the zoo removed an entire lane of traffic and replaced it with a wide and open entry plaza. This sign sits at its center, serving as a perfect photo opportunity for families looking for a fun day out.
Geno's Steaks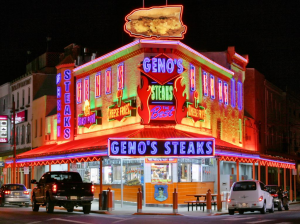 The city of Philadelphia is well-known for its beloved Philly Cheesesteaks, and in The Quaker City, one shop reigns supreme: Geno's Steaks.
Located at the intersection of 9th Street and Passyunk Avenue, this restaurant is one of the most time-honored traditions in the city. Whether it's 1 p.m. or 1 a.m., you can expect exceptional service and delicious fare.
Bold and brilliant, Geno's signage is some of the most vibrant and beautiful in the whole of Philly. It's neon-clad exterior is not something you can afford to miss.
Love Park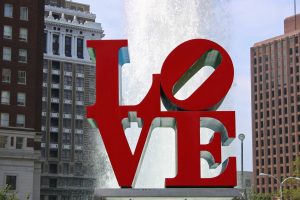 Ok, so technically this sign is considered a sculpture by the modern art world, but at Bartush, we think displays this great can be both.
Originally designed by Robert Indiana, this reproduction piece serves as an inviting welcome that let's visitors know that they have arrived at Love Park (a.k.a. John F. Kennedy Plaza), the visual terminus of the Benjamin Franklin Parkway.
The "LOVE" display itself was added to the plaza in 1976 in celebration of the U.S. Bicentennial. Today, it reminds everyone who gazes upon it that the heart of Philadelphia lies with its people and their unwavering love for one another.
Are you looking to commission a potentially iconic sign for your business or organization? If so, look no further than Bartush Signs! Contact us today to discuss your options!