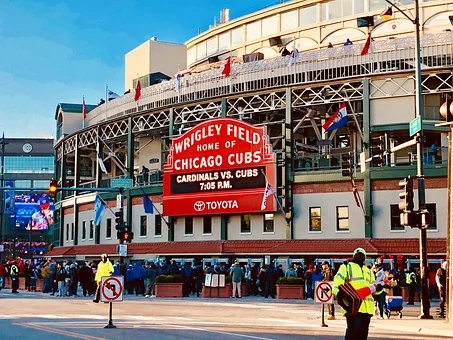 Chicago may be best known for its breathtaking skyline and robust views of Lake Michigan, but when it comes to elaborate and striking display signage, the Windy City may just be one of the best in the country.
Beloved by locals, many of Chicago's most iconic signs are true landmarks and longtime fixtures of the neighborhood. Almost everywhere you look, there's something bright and colorful that captures your attention.
Without further ado, here are the six most iconic signs in Chicago, Illinois.
Pacific Garden Mission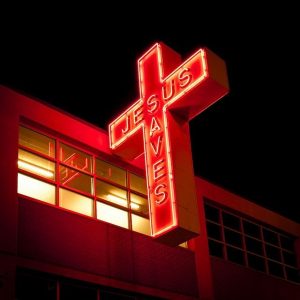 While the first sign on our list may not be especially flashy or grandiose, it's status as a city landmark cannot be understated. Founded in 1877, the Pacific Garden Mission is the oldest homeless shelter in the Second City.
Over the years, the organization has moved around Chicago several times, but it now resides at 14th Place and Canal Street, where a bright and brilliant red neon sign illuminates the sky in the hopes that in-need passers-by can use it as a guiding light on cold, windy nights.
Erie-LaSalle Body Shop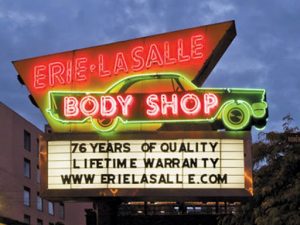 Unfortunately, the long-standing Erie-Lasalle Body Shop was demolished in 2017 after more than 80 years of business. But luckily, this intricate neon display, which serves as a beloved city relic, was spared.
Today, the Erie-LaSalle Body Shop sign remains in its original location, though owner Bob Gottfred refuses to remove it. The porcelain and neon monument is simply too important, he says.
"I got one offer for $30,000," he says. "It didn't faze me."
Margie's Candies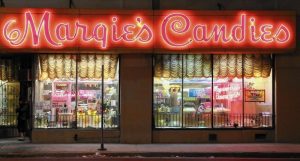 Margie's Candies, located at Milwaukee, Western, and Armitage, has been putting smiles on peoples' faces for nearly a century, as the indoor design of this beloved sweet shop can attest, but it's the shop's glorious neon sign that truly makes the grade.
"It cost $3,500 at a time when a Cadillac Fleetwood cost $3,200," says owner Peter Poulos (grandson of 1921 founder Peter and son of the namesake Margie). The porcelain-over-metal and neon creation has graced the Bucktown confectionery since 1954when it replaced a vintage 1940s Coca-Cola sign.
Central Camera Company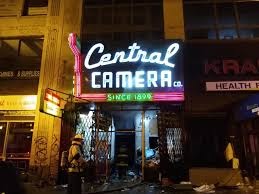 As this stand-out sign says, the Central Camera Co. has indeed been in business for 122 years now, despite ever-changing technology in the world of photography and video. Still, photography and film students at School of the Art Institute of Chicago and Columbia College flock to this locale frequently for school projects and hobbyism.
According to operator Albert Flesch, the grandson of the original Albert who first opened the shop, the colors of this sign have specific meanings. Green and white are the dominant colors because they are the store's logo hues; Eastman Kodak founder George Eastman discovered that yellow (visible on the left side of the sign) is the color most identifiable from long distances; and red was an eye-catching choice for the flickering parts.
The Chicago Theater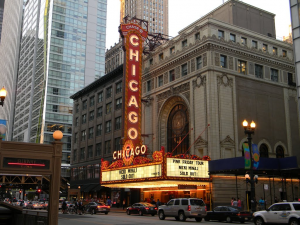 The City of Chicago is a popular spot for filmmaking, a fact to which the countless number of tracking shots and establishing shots of the famous Chicago Theater can attest to.
Built in 1921, this iconic marquee is a whopping six-stories high and made largely of neon. Today, it enjoys exclusive status as one of the most Chicago-esque signs in the whole of the city — but there's one more display sign that we feel is an even bigger part of the Chicago story.
Wrigley Field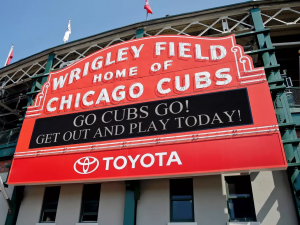 Ask any local Chicago Cubs fan, and they're almost guaranteed to tell you that they've not only seen this iconic bright red marquee, but that they have years of happy memories of it as well. To this day, it's one of the most photographed signs in the history of not just baseball, but all of professional sports.
This bold and brilliant sign has welcomed sports fans to this prestigious ballpark for over 80 years. It was given a much-needed facelift, some key repairs, and a color touch-up in 2016, when it was also adorned with some corporate sponsorship for the first time ever.
Are you looking to commission a potentially iconic sign for your business or organization? If so, look no further than Bartush Signs! We are the premier display signage design company Orwigsburg, PA. Contact us today to discuss your options!